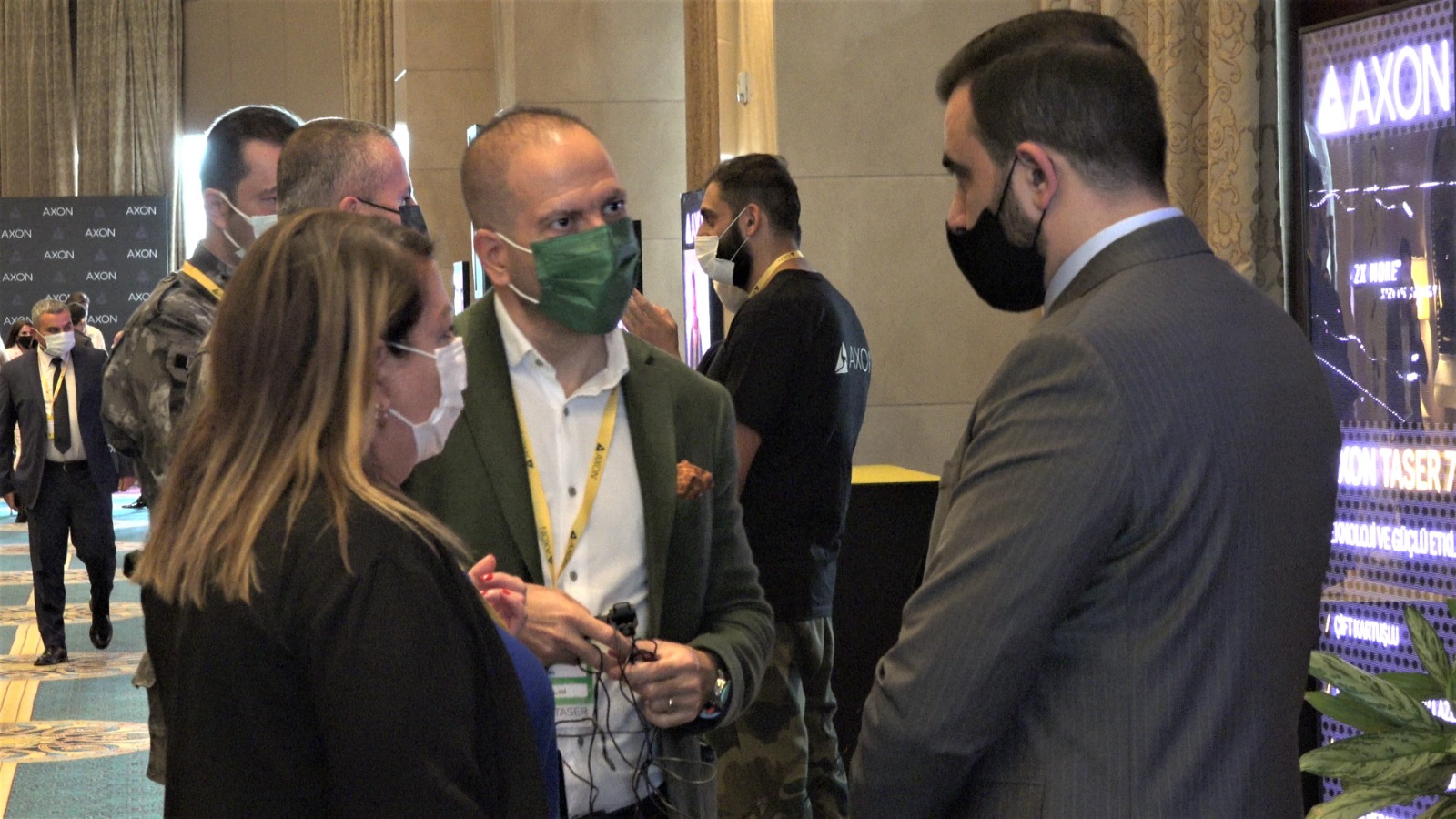 Within the scope of the demo-day, the company has displayed the wide-range product family such as AXON Fleet 3, AXON Air Drone System, AXON Flex 2, AXON Body 2&3 Camera, AXON TASER 2 (two-shot energy weapon), AXON TASER 7 (Energy Weapon) AXON Interview room in the foyer area.
At the opening ceremony of the day, Mr. Ethan Hunter - Turkey Exclusive Distributor and Anas Hamouri - Regional Director/Middle East&Turkey of AXON enterprise made a brief speech and welcomed the participants. Following the opening speech, the company representatives have introduced the company's product ranges and capabilities to the participants. Apart from the introduction, an exclusive demo was made with the TASER energy weapon on the stage.
In advance of the demo day, as Defence Turkey magazine, we talked with Regional Director/Middle East Turkey of AXON- Mr. Anas Hamouri, about the company's structure, existing capabilities, customer portfolio, and viewpoint on the Turkish Market.
About AXON Enterprise
Axon Enterprise, Inc. (Axon) is a provider of law enforcement technology solutions. Axon is engaged in developing, manufacturing, and selling conducted energy weapons, also known as conducted energy devices, which it sells under its brand name, TASER. Additionally, Axon offers an on-officer body (Axon Body and Flex) and in-car (Axon Fleet) cameras as well as cloud-based digital evidence management software (Evidence.com). It also develops, manufactures, and sells fully integrated hardware and cloud-based software solutions that enable law enforcement to capture, securely store, manage, share and analyze video and other digital evidence. Its segments include TASER and Software and Sensors. The TASER segment products include TEASER 7, TASER X2, TASER X26P, TASER Pulse and Bolt, Cartridges, and Axon Evidence and cloud services. The Software and Sensors segment products include Axon Body, Axon Flex, Axon Fleet, Axon Dock, Axon Evidence and cloud services, and TASER Cam.