Date: September 16, 2022 Update: September 16, 2022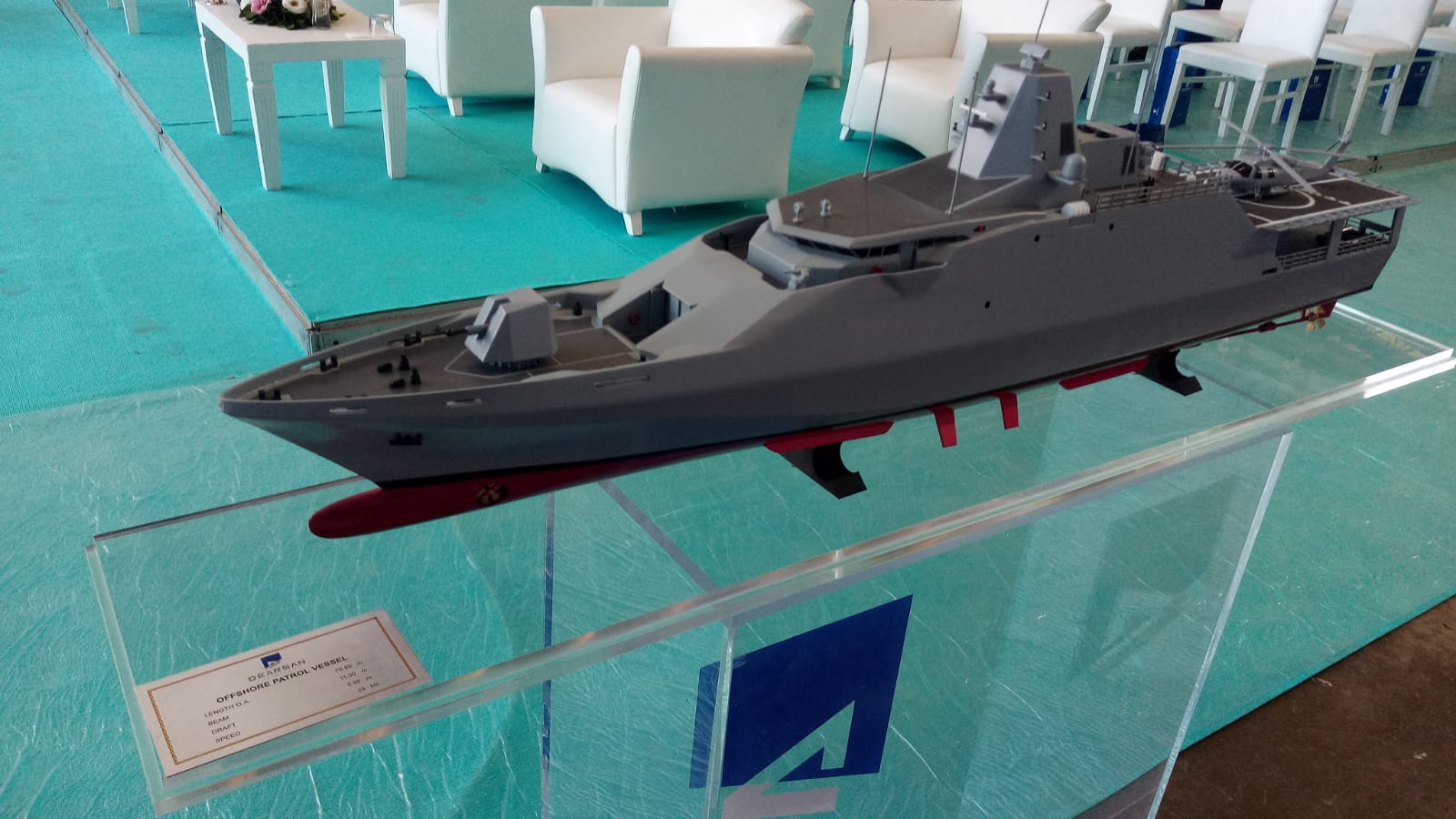 Nigerian Ambassador to Ankara İsmail Yusuf ABBA, Minister of Defense of the Federal Republic of Nigeria Bashir MAGASHI, Commander of the Turkish Naval Forces Admiral Ercüment TATLIOĞLU, Deputy Minister of National Defense Muhsin DERE, Nigerian Chief of Naval Staff Vice Admiral Awwal Zubairu GAMBO, and President of DEARSAN Shipyard Aziz YILDIRIM attended the ceremony held at DEARSAN Shipyard.
The design and construction activities of the OPV-76 Ships, which are configured in line with the requirements of the Nigerian Naval Forces, will be carried out entirely by DEARSAN, and the vessels are equipped with domestic systems as much as possible. According to reports from Nigeria, each ship will cost US$80 Million, and the first payment/prepayment of US$35 Million under the Project was made in June 2022. The ships are planned to be delivered within a 37-month calendar.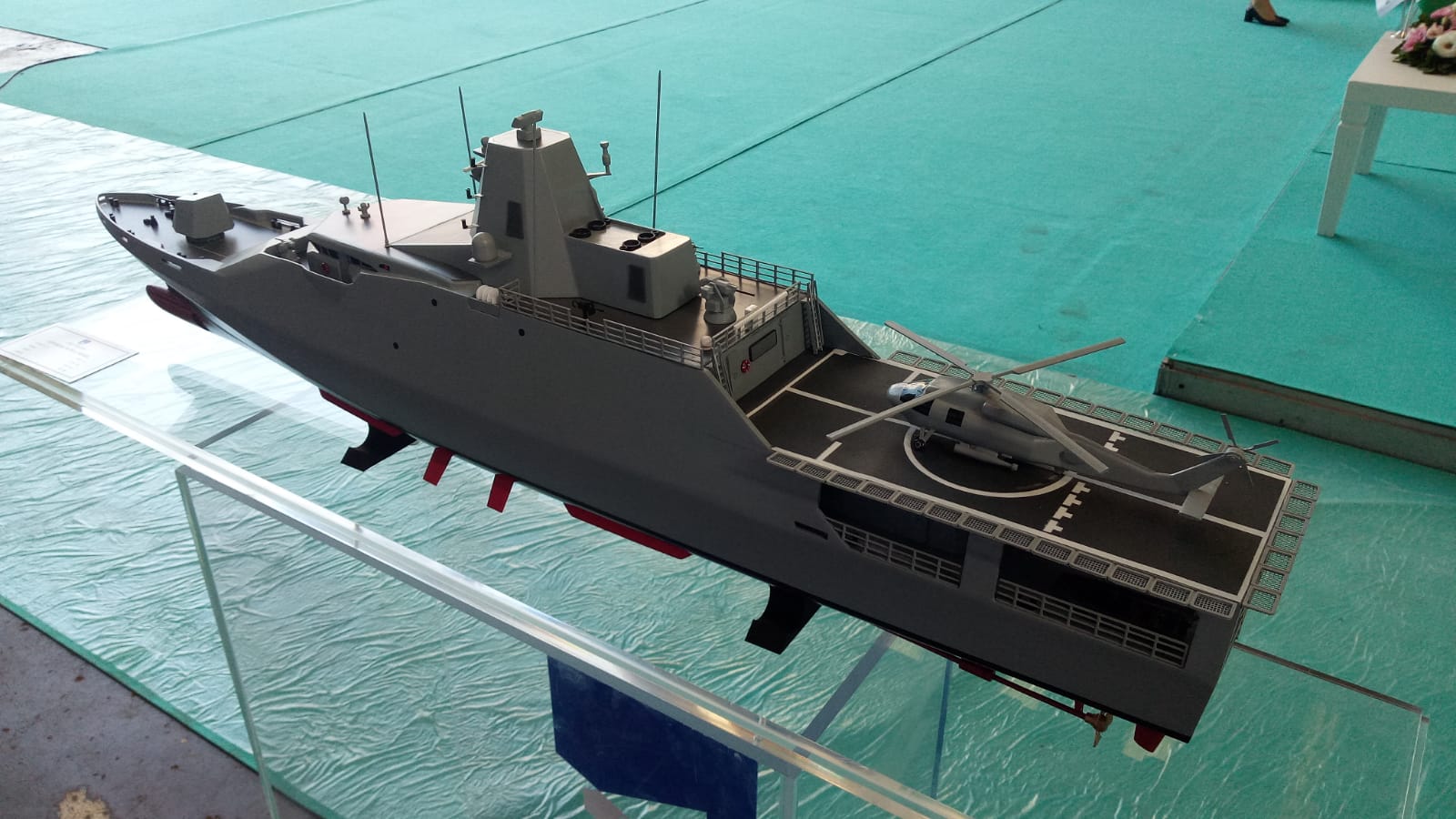 OPV-76 Offshore Patrol Vessels (OPV) will be armed with a Leonardo product 40mm Marlin Light Naval Gun (forward), 1 x ASELSAN 30mm SMASH Remote Controlled Stabilized Naval Gun (aft), 2 x ASELSAN 12.7mm STAMP Remote Controlled Weapon System (RCWS), and 2 x manual controlled 12.7mm Machine Guns. In addition, the vessels will be equipped with HAVELSAN ADVENT Combat Management System (CMS), HAVELSAN Ship Data Distribution System (SDDS), two operator consoles manufactured by YALTES (for ADVENT SYS), YALTESIntegrated Platform Management System (IPMS), Italian GEM Elettronica product 2D radar (with surface and air surveillance capability), and GEM Elettronica product electro-optical fire control system. OPV-76 ships will be fitted with four MAN product diesel engines (18VP185), and it is stated that the vessels can reach a maximum speed of 28 knots. Constructed in line with the Türk Loydu Ship Classification rules, the hulls of OPV-76s will be made of steel sheets, and marine aluminum (Sealium) will be used in the ship superstructure. The operational range of the ships is stated as 2.500nm (nautical miles). A contract was signed with HeliPLAT Co.Ltd. for the certification engineering, testing, and HAT/SAT activities of the helicopter platform on the OPV-76 ships.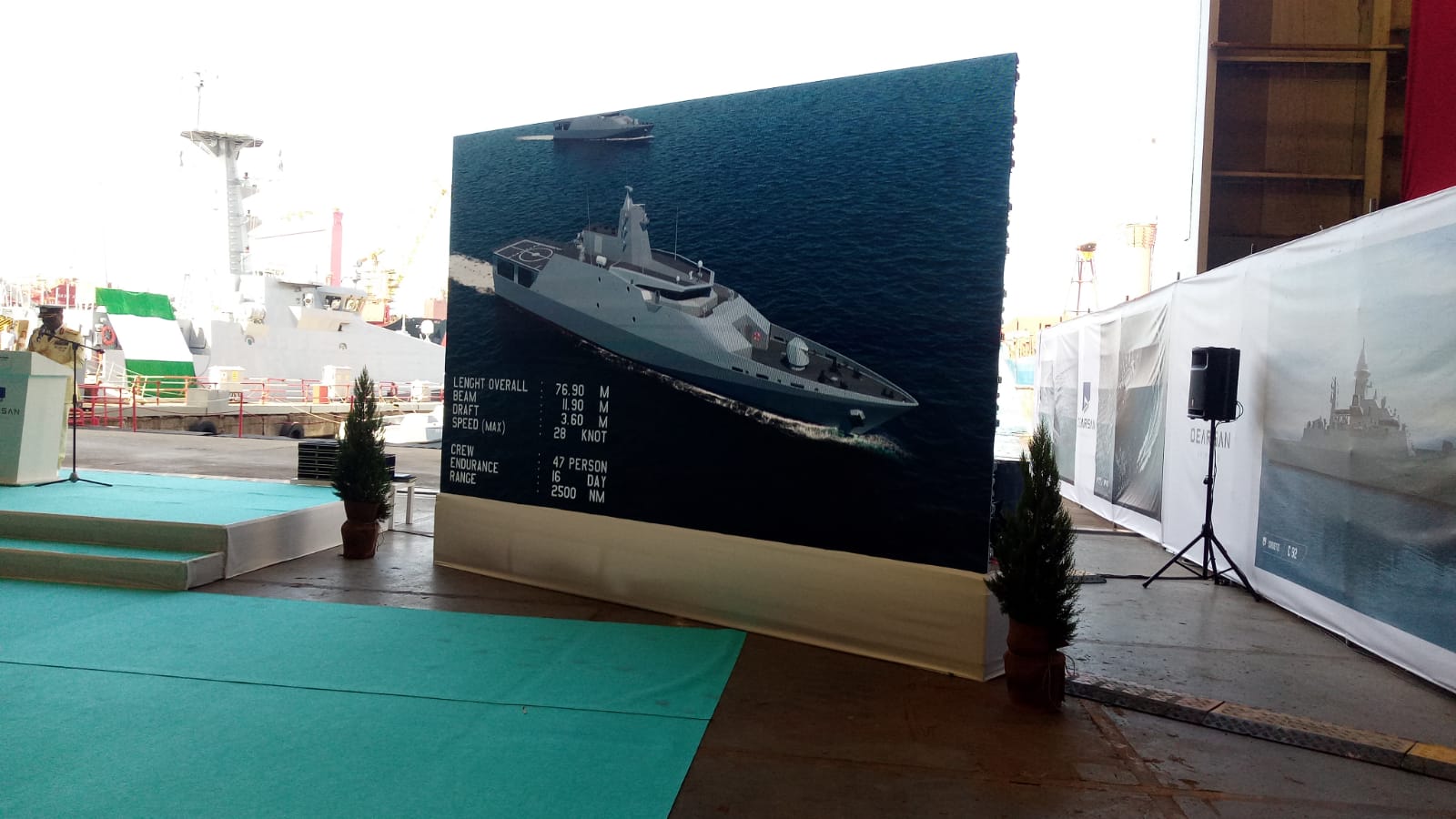 Under a comprehensive project that includes training and logistics support, DEARSAN Shipyard has built and delivered a total of 28 military ships, including 10 x 57-meter New Type Patrol Boats (in different configurations equipped with Otomat and Marte anti-ship missiles), 6 x 33-meters Fast Intervention Boats, 10 x 15-meter Fast Intervention Boats, 1 x Oceanographic Research Vessel, and 1 x Landing Craft (LCT, previously proposed LCT solution for the Turkish Navy) for Turkmenistan in the past years. Previously, DEARSAN delivered the Turkmen Class (C-92) Deniz Han Corvette, which was built in 2019 according to the Türk Loydu Ship Classification rules, to the Turkmenistan Naval Forces at the Turkmenbashi Naval Base on August 11, 2021. Deniz Han Corvette is 91.4m long, 13.3m wide, has a displacement of 1,600 tons, and can reach a speed of 28 knots with its propulsion system consisting of 4 diesel engines and two propeller shafts. Turkmen Class Deniz Han Corvette is equipped with a hull-mounted Anti-submarine Warfare (ASW) sonar, a helipad that can accommodate a 10-ton helicopter, 2 x 12.7mm STAMP RCWS, VL Mica air defense system, and a 76mm Super Rapid Naval Gun. Deniz Han Corvette was also the first platform fitted with the ASELSAN product GÖKDENİZ CIWS system. DEARSAN Shipyard will deliver a total of two C92 Corvettes (1+1, one firm order, one optional) for Turkmenistan. According to the information I received at the ADEX 2022 Exhibition, negotiations are continuing on whether the second ship (optional) will be built in the C92 configuration or another version.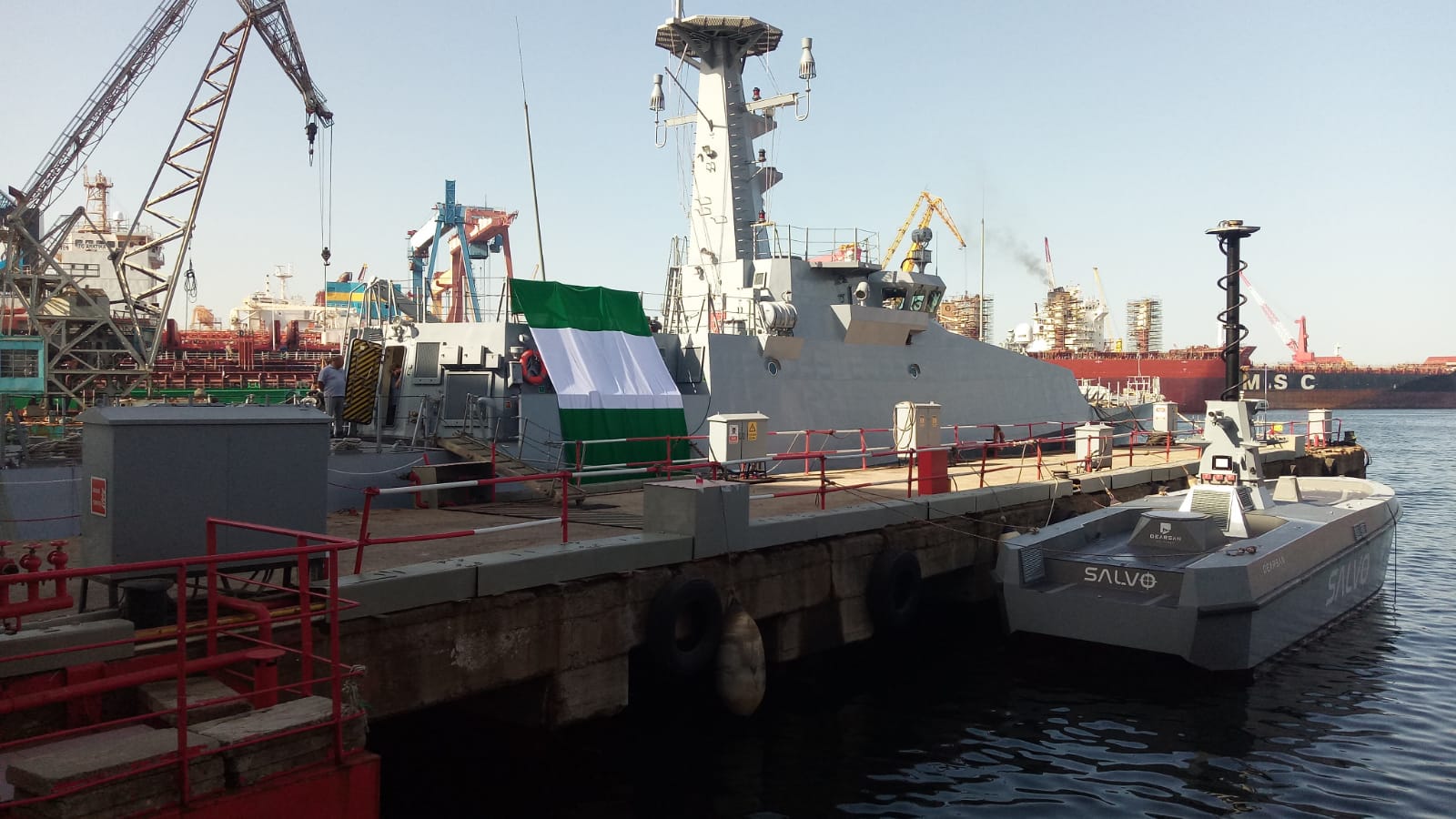 DEARSAN is also one of the shipyards that bid for the Serial Production Phase of I-Class Frigates. The shipyard selection is expected to be concluded at the Defense Industry Executive Committee (SSİK) Meeting, which will be held in the coming days. DEARSAN is also closely following the TF-2000 Air Defense Warfare Destroyer Project, the tender process of which will begin this year.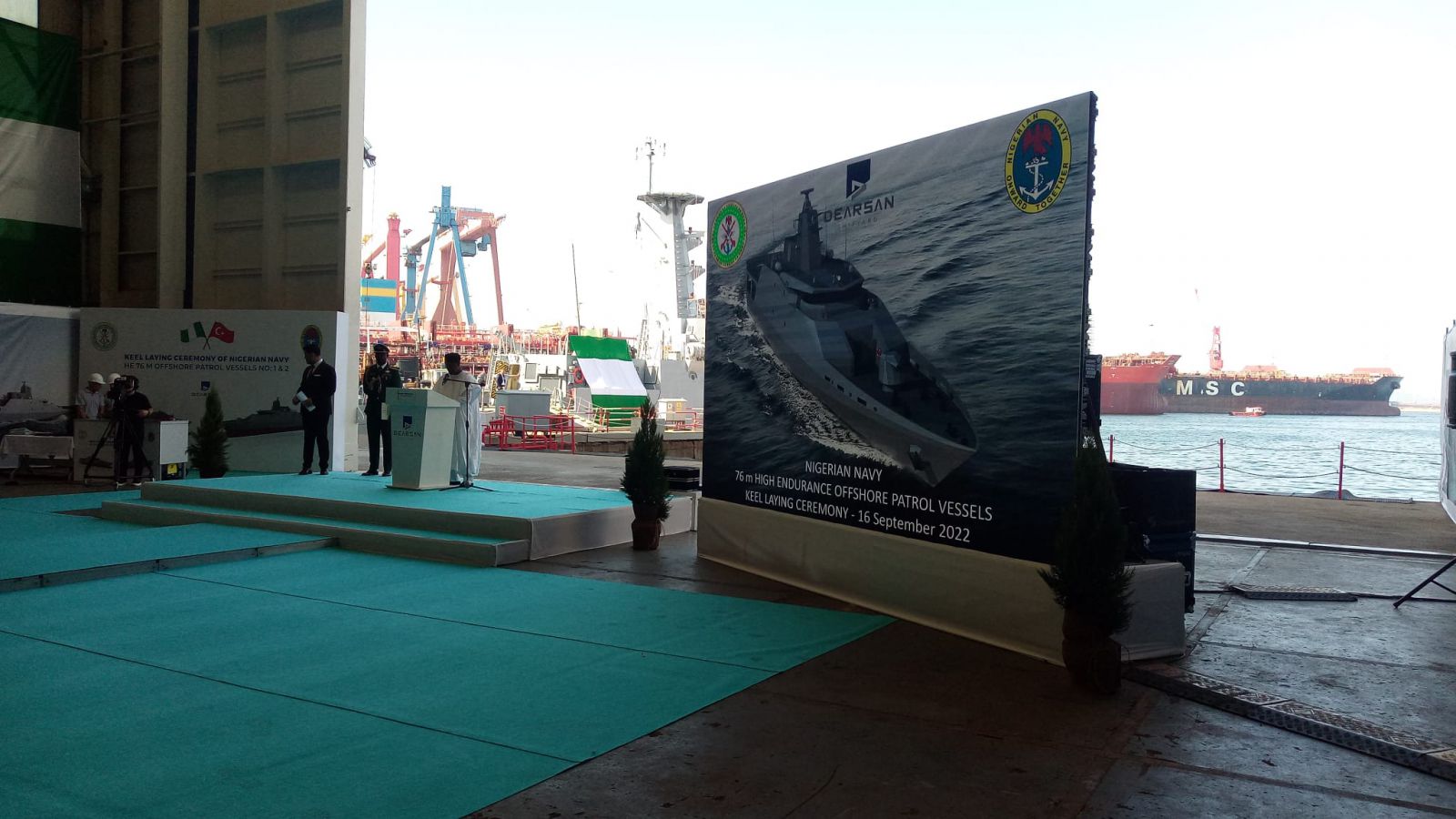 The Federal Republic of Nigeria, a country located in the West of the African Continent, is one of the most developed countries in Africa. Nigeria, with proven oil reserves of approximately 37 billion barrels, is thought to have 3.1% of the world's reserves. Nigeria, which is among the top 15 countries in the world in crude oil production, ranks 8th in the world with the highest oil reserves and 6th in terms of oil exports. Nigeria, which has achieved significant export income thanks to its energy resources, has launched a number of new ship procurement projects in recent years to strengthen its Naval Forces. According to open sources, between 2015 and 2021, the Nigerian Navy procured a total of 378 platforms, including 2 P-18N OPV, 172 patrol boats, 12 MANTA Class Boats, 14 River Town Class Boats, 3 Tugboats, 2 Barges, 2 Hydrological Research Ships, 14 UAVs, 11 Helicopters, and 2 Special Mission Aircraft. In the upcoming period, in addition to 2 x OPV-76 Offshore Patrol Vessels to be built at DEARSAN Shipyard, Nigeria Navy will acquire 1 x 46-meter Poly Technologies product Fast Attack Craft, 2 x 45-meter Seaward Defense Boats (SDB, 4th and 5th boats will be built at Naval Dockyard Limited in Nigeria), 2 x 38-meter Suncraft International Sea Eagle Fast Attack Crafts, 4 x 15-meter Fast Intervention Boats, 40 x 9-meter Fast Intervention Boats, and 3 x AW109 GrandNew Helicopters. Under the contract signed in April 2012, Nigeria had previously procured 2 x P-18N OPVs based on the Type 056 Class Corvette in February 2015 and November 2016 (the construction process started in October 2012). These two ships, NNS Unity (F91) and NNS Centenary (F92), with a length of 95m and a displacement of 1,800 tons, continue their duties as the most modern ships in the service of the Nigerian Navy until the OPV-76s are commissioned.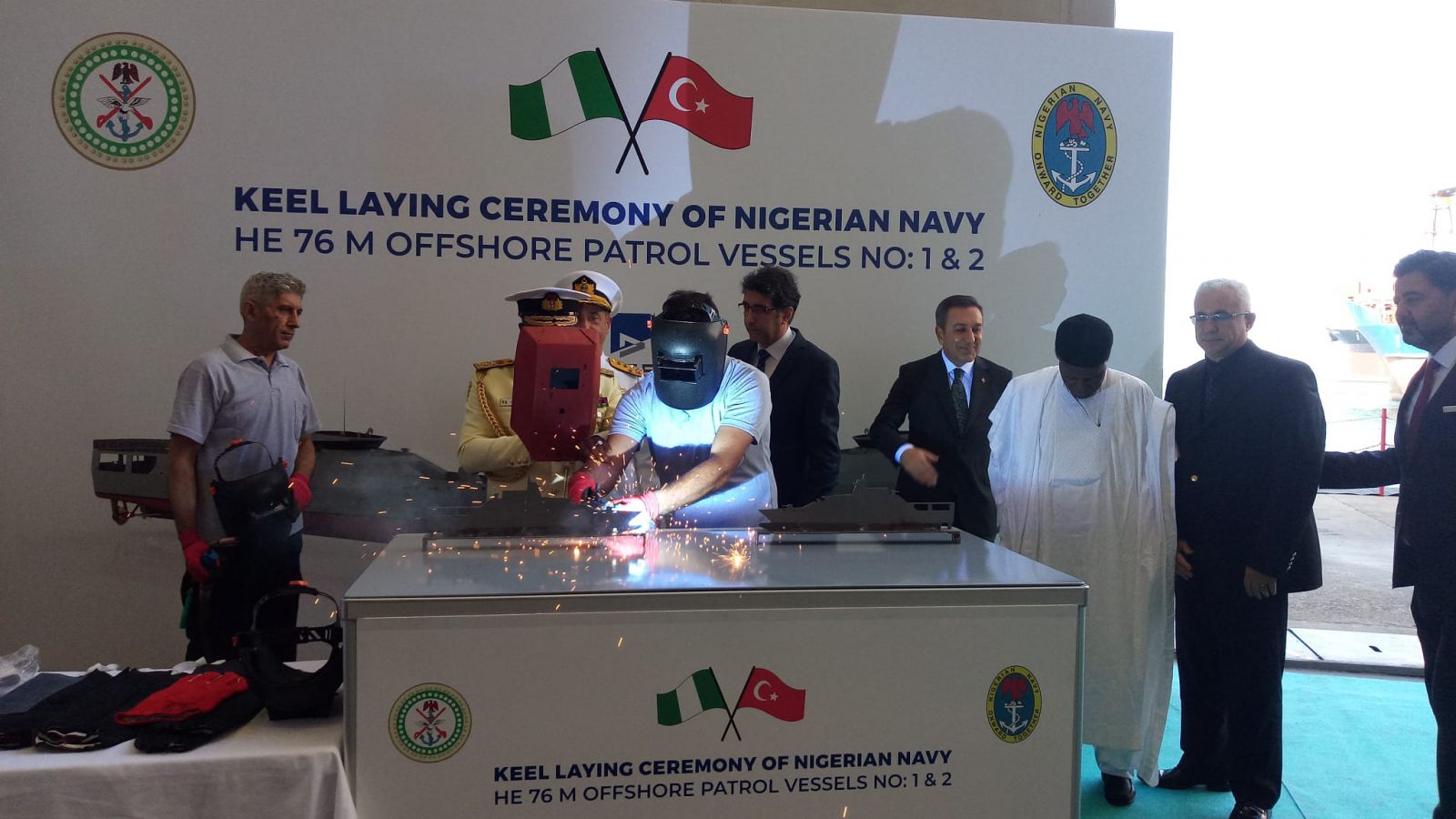 By procuring new ships and boats, the Nigerian Navy aims to secure oil production in the Rivers and Delta region, where the country's oil fields are located, and to combat piracy and maritime crime in the Gulf of Guinea. It is stated that more than 1.5 million barrels of crude oil can be produced per day in the oil fields in the Rivers and Delta region, but at least five hundred thousand barrels of capacity cannot be used due to incidents such as sabotage by armed groups, conflicts, and kidnappings.