Date: May 26, 2023 Update: May 26, 2023
Due to emerging threats and new technologies on mission equipment and weapon systems, it is aimed to upgrade AAPCs with selective equipment and systems. The FNSS package covers upgrade areas such as improvements in mobility, protection levels, life support, electronic systems, situational awareness, and firepower. Within the scope of the capability enhancement program, the vehicles will be fitted with a dual gun remote-controlled weapon system with a close-range surveillance system, auxiliary power unit, A/C system, automatic fire suppression system, spall liners, driver vision system, and navigation system. In addition, necessary engineering efforts will be carried out to integrate the gunshot detection system. A complete vehicle overhauling, including engine & transmission, will also take place under the scope of the contract. All these improvements in reliability and durability will increase mission capabilities while minimizing maintenance services during operational deployments.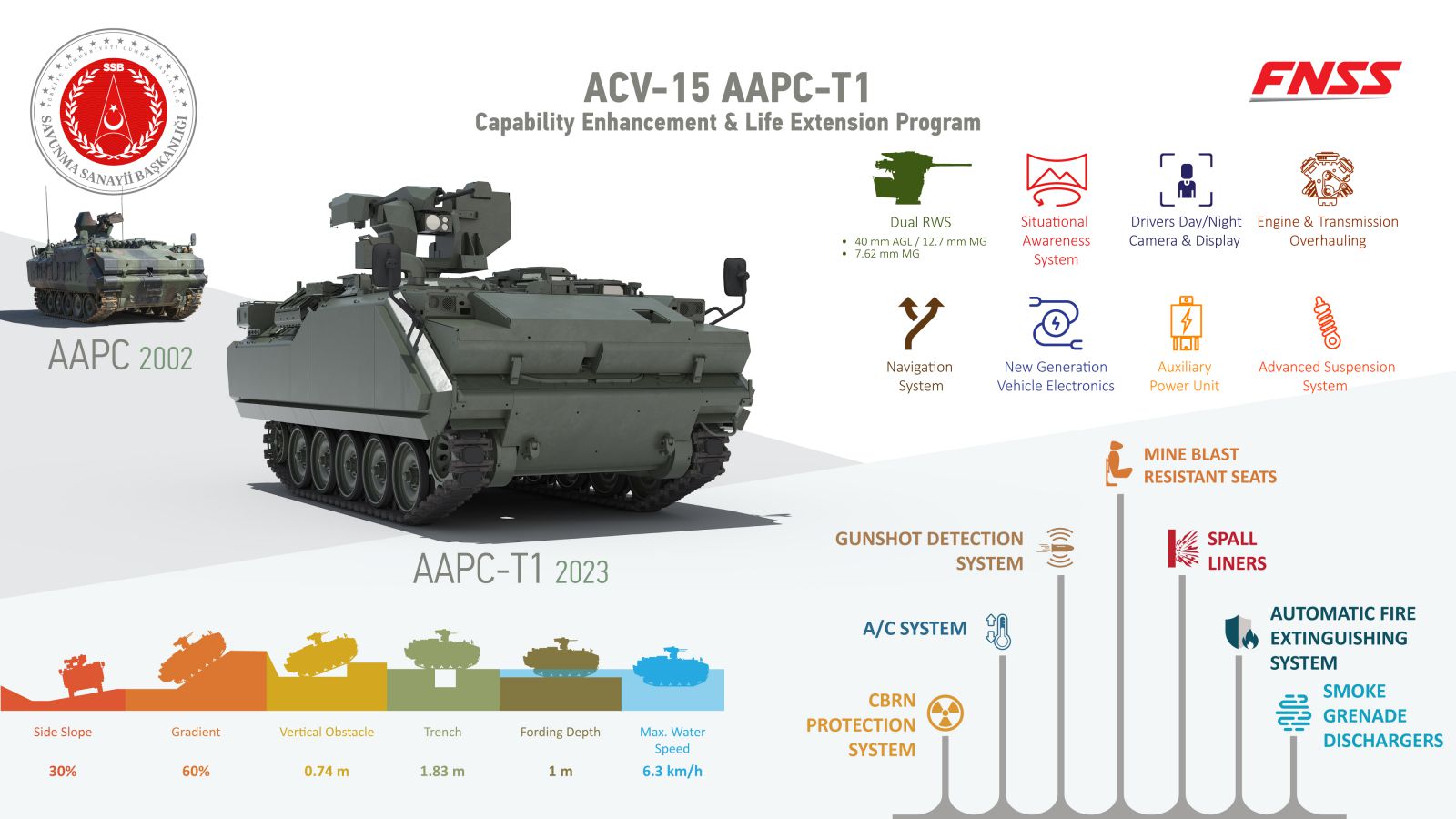 FNSS has a history of success stories about completing modernization programs for different armies such as Türkiye, Saudi Arabia, the USA, Bahrain, and The Philippines. With its experience and knowledge in modernization and new-generation vehicle developments, FNSS offers the most advanced solutions for vehicle sustainability programs based on user requirements and specifications. The company recently started delivering modernized ACV-15 IFV platforms to the Turkish Army under the ACV-15 capability enhancement and life extension program contracts.
FNSS' capability enhancement & life extension solution represents significant upgrades to an already proven and reliable military platform by extending the service life of the vehicles and ensuring that the vehicles remain an effective and relevant asset for modern combat requirements.