Following the Turkey-Azerbaijan Business Forum, a total of 11 agreements and a memorandum of understanding were signed between the two countries. Speaking at the press meeting held after the Forum, Turkish Vice President Fuat OKTAY underlined that within the scope of meeting they have discussed and decided on potential cooperation opportunities between the two countries in areas such as industry and technology, energy, urbanism, defence, culture and tourism, transportation and communication, agriculture and food security, education, youth and sports. And as part of these decisions SOM Missile System will be integrated to warplanes in the inventory of Azerbaijan Air Force and Armed Forces of the two countries will perform joint participation to cyber exercises.
In June 2018, at the military parade organized at the capital Baku's famous Azadlık Square a mock-up of Roketsan's SOM-B1 Air Launched Cruise Missile (ALCM) was displayed on a military tactical wheeled vehicle. Thereupon, it was presumed that the SOM-B1entered into Azerbaijan Air Forces' inventory during those dates. However, during ADEX 2018 Fair held in September in Baku, in response to our question as to whether the agreement for the sale of SOM has been signed or not, a high-ranking Roketsan official underlined that even they had been conducting marketing activities and executing bilateral negotiations to this end for the last four years no formal contract on the sale had been signed yet to date.
According our sources, the SOM-B1 ALCM was already integrated to a modernized Su-25M Frogfoot aircraft of the Azerbaijan Air Force, the avionic modernization of which was carried out by Elbit and Aselsan, and the flight and firing tests were successfully performed in Konya, Turkey several years ago. The SOM-B1 ALCM fired as part of the test campaign directly shot the fixed target on the Konya Firing Range.
For the sale of the SOM-B1 ALCM to Azerbaijan, export licenses are required for the foreign origin subsystems as well. One of the most important obstacles to the signing and effectivity of the SOM ALCM export contract was the failure to obtain an export license for the TR-40 engine from France. Regarding the TR-40 turbojet engine, which is one of the most critical subsystems and manufactured by French Safran Power Units, an export license was requested from the French government in 2017, however the French Defence Procurement Agency DGA did not approve this request. So, considering the fact that formal contract has been finally signed after almost 5 years of negotiations either green light has been received from French DGA/Government for the export or the SOM-B1 missiles destined for Azerbaijan Air Force will be powered by either AI-35 of Ukraine or KTJ-3200 turbojet engine of Kale R&D.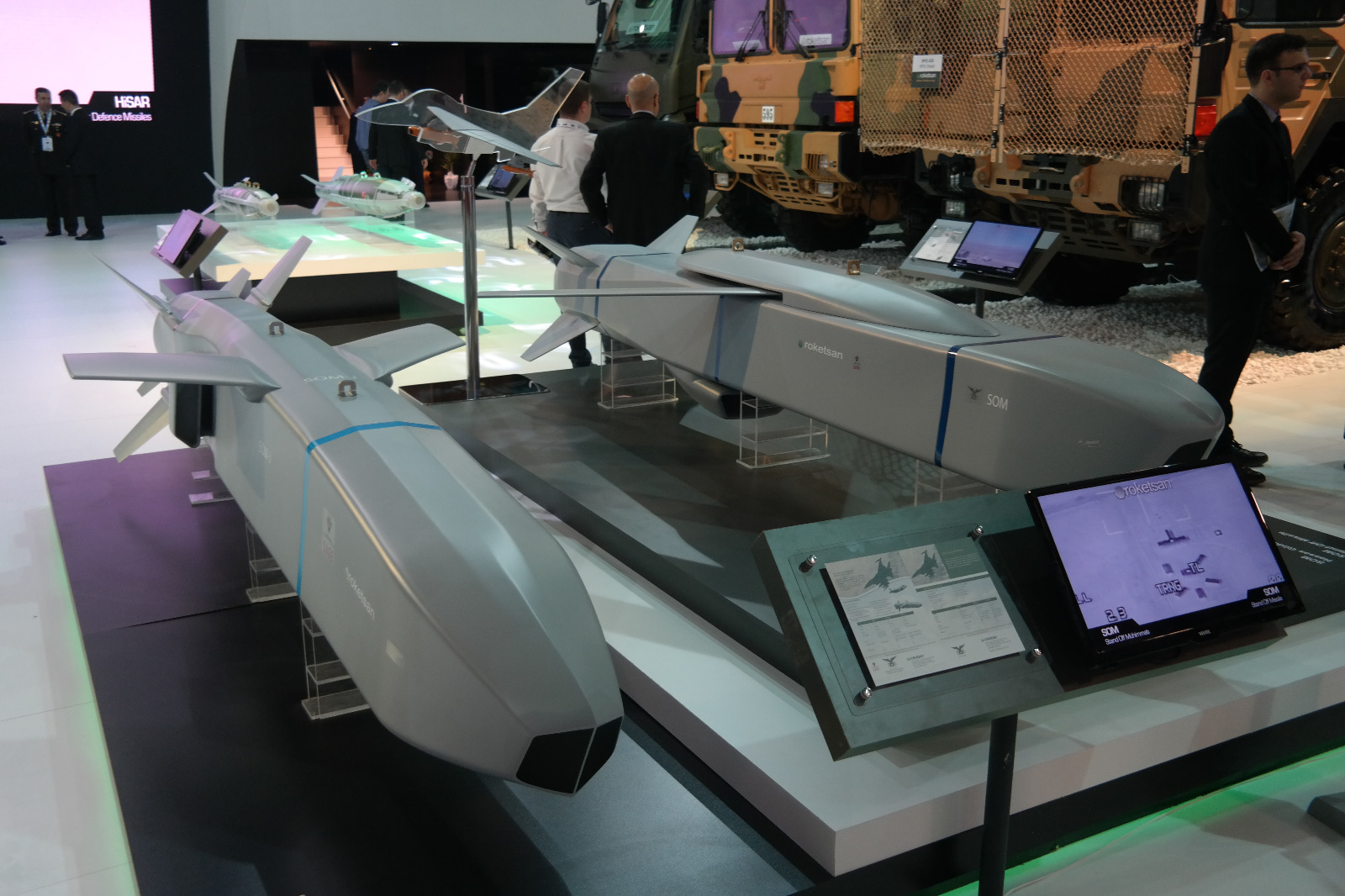 SOM ALCM Family
Within the scope of the SOM Project, the US$80 Million valued development contract was signed on March 31, 2006 and development activities were launched by Prime Contractor TÜBİTAK SAGE in April 2006. The SOM-A missile was unveiled for the first time at the 2nd Air Force Base located in Çiğli, İzmir in June 2011 (The Celebration of 100th Anniversary of Turkish Air Force in İzmir) and first firing test of SOM-A from F-4E 2020 was performed in August 2011. Following the completion of ground and flight/firing tests with success, SOM-A, Turkey's first indigenous Air Launched Cruise Missile (ALCM), inducted into Turkish Air Force (TurAF) inventory in 2012. Development and verification tests of the SOM-B1 were also completed in 2012. Under a contract awarded in early 2013 series production of SOM-A and SOM-B1 started in July 2013 and first batch of new production SOM-As delivered during the second half of 2015. On January 4, 2018, the SSB announced via its official website that first batch of 7 series production SOM-B1 missiles were handed over to the TurAF.
On October 26, 2018, President of Defence Industries Prof. Ismail DEMIR announced via his social media account that the Contract for the Serial Production of the Precision Guided Stand-Off-Munition (SOM) Project was signed between the Presidency of Defence Industries (SSB) and Prime Contractor Roketsan. Roketsan previously secured a contract from Turkish MoND for the industrialization and series production of SOM-A and SOM-B1 ALCMs in early 2013. The contract awarded in October 2018 is believed to cover series production of SOM-B2 and development of new members of the SAM ALCM Family namely C1 and C2. It is estimated that so far, a total of 495 SOM ALCMs have been ordered under two separate contracts (80+415).
The SOM C1 and C2 ALCMs are part of SOM ALCM Family and the main features that distinguishes them from SOM-B1 and B2 are that they have a data link capability and can engage surface targets either stationary or moving. The main difference between C1 and C2 is that the C2 version has a tandem-penetrating warhead as in the B2 version.
The development of the SOM-B2 Missile with a Dual Stage Tandem Penetrating Warhead, and its ground, flight and live firing tests were completed in 2020 and the series production started. The first firing test of the SOM-B2 Air Launched Cruise Missile (ALCM) was conducted during the second half of 2019 and the target was destroyed through high precision shooting. Meanwhile, the new capabilities added to the SOM-B1 ALCM in line with operational requirements were verified with the successful test fire conducted by the TurAF in November 2019. Development activities of the SOM-C1 (with High Explosive Blast-Fragmentation Warhead) and the SOM-C2 (with Dual Stage Tandem Penetrating Warhead) that are the variants of SOM with ASuW capability and equipped with Meteksan Savunma's KEMENT tactical data link, are still on-going.
The SOM is a family of new generation, air launched non-nuclear, long range, fire and forget type precision strike missiles capable of defeating both fixed non-hardened and hardened land targets as well as moving sea targets. The 1.300lb (610kg) SOM ALCM's airframe is designed with stealth capability provided by the shape of the airframe and the materials used in its construction, to give the missile a low detection probability and allow it to penetrate enemy air defence systems. Intended targets for the SOM ALCMs are including command and control facilities, surface-to-air missile (SAM) sites, parked aircraft, hardened aircraft shelters (HAS), strategic assets and surface ships.
Powered by TR40 Turbojet Engine the SOM is an indigenously developed high-subsonic ALCM. The missile has a length of 3.85m, a launch weight of around 590kg (1.300lb) to 635kg (1.400lb, B2 and C2 versions), and a wingspan of 2.7m (during flight). It can carry 230kg high explosive unitary (SOM-A, B1 and C1) on dual stage tandem penetrator warhead (SOM-B2 and C2) out to 150nm (279km). Fitted with an IIR seeker (with MCT based cooled type 640x512 pixels MWIR detector) the missile is propelled by a liquid-fuelled turbojet engine. While the SOM-A is equipped with INS/GPS guidance system plus Terrain Referenced Navigation System (TRNS/TERCOM, provides ability to ability to follow terrain contours) coupled with radar and barometric altimeters for determining the flight altitude, other versions also employ Image Based Navigation (IBN) and Automatic Target Acquisition (ATA) systems. The IBN provides image-based midcourse navigation (IBN) by taking snapshots of waypoints and comparing them against predicted position to update the navigation system.
Thanks to its advanced guidance system SOM is able to navigate without GPS if that capability is denied or degraded. SOM ALCM also has the ability to follow waypoints. TÜBİTAK-SAGE has also developed the Mission Planning System; a digital flight control computer on board the missile has a capacity for up to 50 waypoints. TUBITAK SAGE also delivers thermal battery with a service life of 25 minutes for the SOM ALCM Family. With the exception of the TR40 engine, which is to be replaced with KTJ-3200 in 2021, most of the SOM ALCM's components are of Turkish design. It is also reported that the Ukrainian AI-35 (developed and produced by Ivchenko-Progress) was selected as an alternative engine to TR40. According to Ukrainian media AI-35 deliveries will take place in 2021. The AI-35 engine shall be used also at the export versions of SOM ALCMs and ATMACA Anti-Ship Cruise Missiles.