Following a 5-day port visit for vital replenishment conducted prior to entering the Black Sea, HMS Defender departed Sarayburnu Port on June 14th and sailed through Bosporus with the Dutch frigate HNLMS Evertsen to conduct maritime operations in the Black Sea demonstrating interoperability with their allies in the region.
Following their Black Sea visit (expected to last 20 days), HMS Defender and HNMLS Evertsen will re-join the rest of the Carrier Strike Group before its heads through the Suez Canal. Travelling over 26,000 nautical miles (further than the distance around the world at the equator) the UK led CSG21 will visit more than 40 countries over the next 7 months from the Mediterranean to the Indo Pacific; including Singapore, the Republic of Korea, Japan and India. The CSG21 is made up of aircraft carrier HMS Queen Elizabeth, Type 45/Daring Class destroyers HMS Diamond and HMS Defender, Type 23 frigates HMS Kent and HMS Richmond, and Astute Class submarine, RFA Fort Victoria, RFA Tidespring, U.S.S. The Sullivans of the US Navy and HNLMS Evertsen of the Royal Netherlands Navy.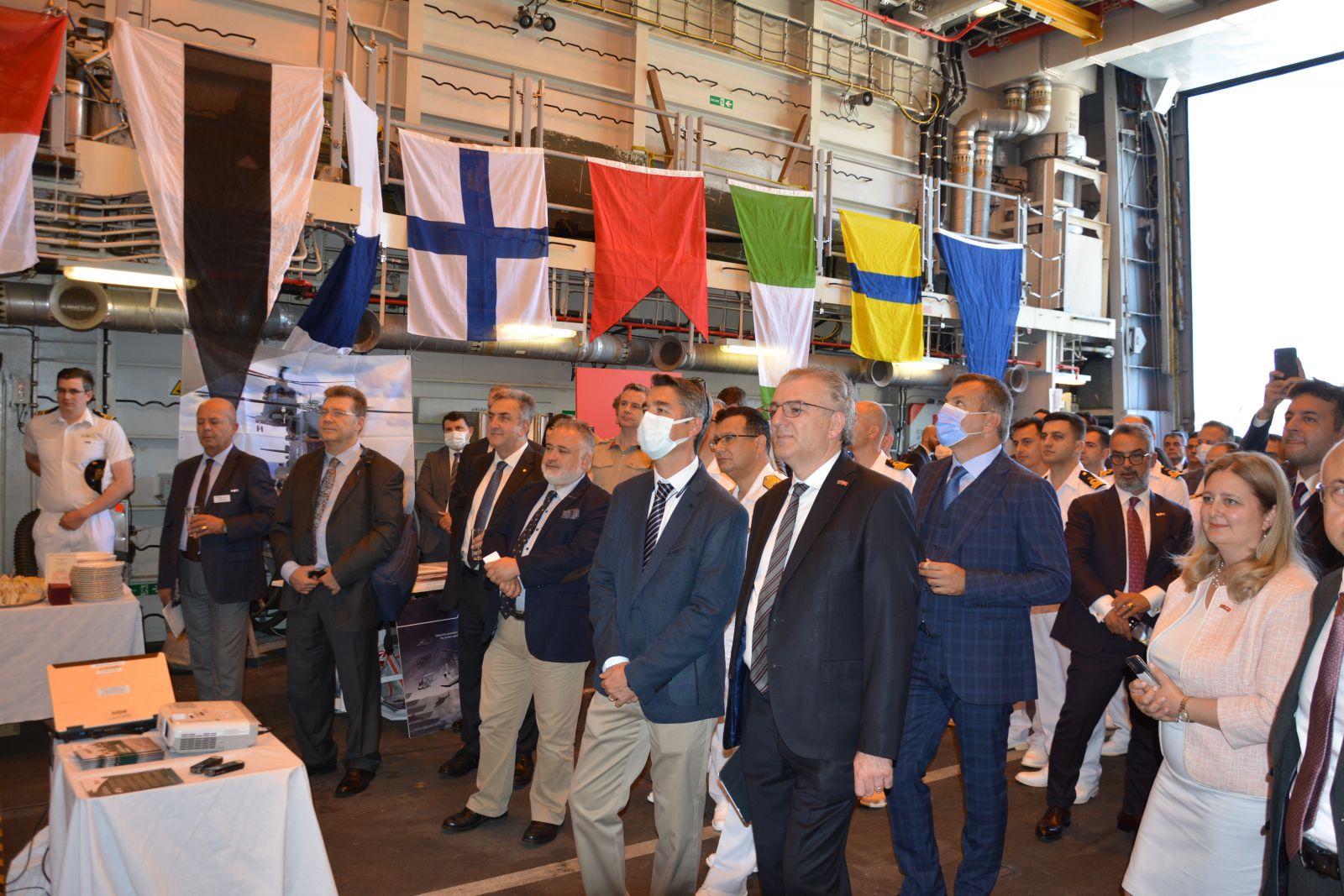 Whilst in İstanbul during June 9 - 14, 2021, HMS Defender hosted a reception for representatives of the Turkish Government, Armed Forces and Defense & Aerospace Sector on June 9th night during which Bridge and Operations Room teams demonstrated the Type 45 Destroyer's response to a small boat threat and air defense capability and her Royal Marines Boarding team showed their close quarter battle skills. HMS Defender's chefs also displayed their expertise with delicious canapés inspired by classic British dishes. A dinner with prestigious guests including the Governor of İstanbul was also held onboard. All events have been carefully planned to ensure they are 'COVID-secure'.
Within the scope of her port visit in İstanbul, RN's cutting edge air defense destroyer HMS Defender also hosted a UK Industry Day event on the afternoon of Thursday 10th, June 2021. Organized by Department for International Trade (DIT) of the UK Government this event provided an ideal opportunity to discuss trends and to work together to foster further economic growth both in the UK and Turkey, from seas to space. Possible areas of cooperation between UK and Turkey are defined on Technology, Advanced Manufacturing, Clean Growth, Defense and Security Sectors. In this context an exhibition was held on the flight deck and hanger of the HMS Defender with the participation of Airbus Defense & Space (ADS), BAE Systems, Caterpillar Defense UK (CAT UK), FNSS (A JV Company owned 51% by Nurol Holding and 49% by BAE Systems), Inmarsat, Leonardo UK, Rolls Royce, Shell, Thales UK and Vodafone. The afore mentioned companies are taking part in Turkey's on-going major aerospace programs including TF-X, HURJET, A330 MRTT, Liaison & General Purpose Aircraft, A400M, T129 ATAK, Training Helicopter, ALTAY MBT, Various Armored Wheeled Vehicle Programs and Military and Commercial Satellite Programs.
High-ranking representatives from Turkish Naval Forces (Commander of the Istanbul Naval Shipyard Rear Admiral [Lower Half/LH] Recep Erdinç YETKİN and Turkish Naval Forces Naval Technical Commander Rear Admiral (LH) İbrahim Rıza ADANIR), Presidency for Defense Industries (Vice President Serdar DEMİREL, Head of Naval Platforms Department Alper KÖSE and Head of Fixed Wing Platforms Department Abdurrahman Şeref CAN) and Defense & Aerospace Sector attended the event to which Defense Turkey Magazine was also invited. Turkish Space Agency President Serdar Hüseyin YILDIRIM was also among the attendees of the event.
Editor Note: You can find detailed information about this event in our next issue