Speaking at a ceremony organized at TUSAŞ facilities to celebrate the delivery of first T129B2 ATAK Helicopter to the Security General Directorate (Turkish Police) on February 26, 2021 TUSAŞ President & CEO Temel KOTİL disclosed that HÜRJET prototype will perform its maiden flight in December 2022, after the completion of the detailed design, prototype production and ground testing phases. While talking to TRT Radio 1 at the National and Domestic Program on December 4, 2020 TUSAŞ President & CEO KOTİL had previously underlined that the first HÜRJET prototype would execute its maiden flight on March 18, 2023, when the 108th anniversary of the Çanakkale Naval Victory will be celebrated.
HÜRJET is being developed by TUSAŞ under a Protocol signed between TUSAŞ, the SSB and the TurAF on July 2, 2018. The initial studies for the "Advanced Jet Trainer & Light Attack Aircraft (HÜRJET) Project" were started in July 2017 and the Project was officially launched on 14 August 2017, as a company funded project (which was funded from TUSAŞ' own resources) after receiving a green light to go ahead from the TUSAŞ Board.
The Conceptual Design Phase (CDP) of the HÜRJET Project was completed in April 2018, according to original schedule the Preliminary Design Review (PDR) Phase activities should have been completed in February 2019 (To+18 months), Critical Design Review (CDR) Phase should have been completed in August 2020 (To+36 months) and the Test Readiness Review (TRR) Phase should have been completed in August 2021 (To+48 months). However due to the internal and external reasons this schedule could not be kept. The PDR Phase could only be completed in July 2020. Within the scope of the PDR Phase, TUSAŞ engineers have carried out several wind tunnel tests including Static Wind Tunnel Tests, Air Intake Wind Tunnel Test and Low Speed Wind Tunnel Test with HÜRJET's 1/10 scaled model to confirm the existing configuration. The HÜRJET model that underwent the initial wind tunnel tests was configured in accordance with GE's F404-GE-102 turbofan engine.
Following the signing of a Letter of Intent (LoI) between TUSAŞ and Eurojet Turbo GmbH for the delivery of EJ200 turbofan engines the design of the HÜRJET was modified (such as, the air intakes were revised and enlarged to accommodate the more powerful EJ200 engine) and further wind tunnel tests have been carried out to confirm revisions on the aircraft overall design. So currently HÜRJET has two separate designs in accordance with two different engine options. According to our sources the HÜRJET will be powered by the F404-GE-102 engine from GE. Under the project two prototypes will be manufactured. According to project schedule the 1st HÜRJET prototype would be rolled-out in December 2021 and to perform its maiden flight in February 2022 (To+60 months), the 2nd HÜRJET prototype, on the other hand, is planned to perform its maiden flight in August 2022 (To+64 months) but this schedule seems to could not be accomplished.
The HÜRJET Project is aimed at the development of an indigenous new generation Advanced Jet Trainer (AJT), capable of supersonic flight to replace the T-38M jet trainer fleet in the service of the TurAF in 2030s, and a Light Combat Aircraft (LCA) able to perform a Close Air Support (CAS) role to assist and release the load off the TurAF's F-16C/Ds shoulders. The indigenous jet trainer HÜRJET will be utilized to train and prepare pilots for the next generation MMU/TF aircraft in the 2030s, replacing the aging T-38M jet trainers in service with the TurAF. Currently the TurAF operates 68 T-38M Advanced Jet Trainers in Advanced Jet Training and Combat Readiness Transition Training at Çiğli Air Base (2nd Main Jet Base Command) in Izmir.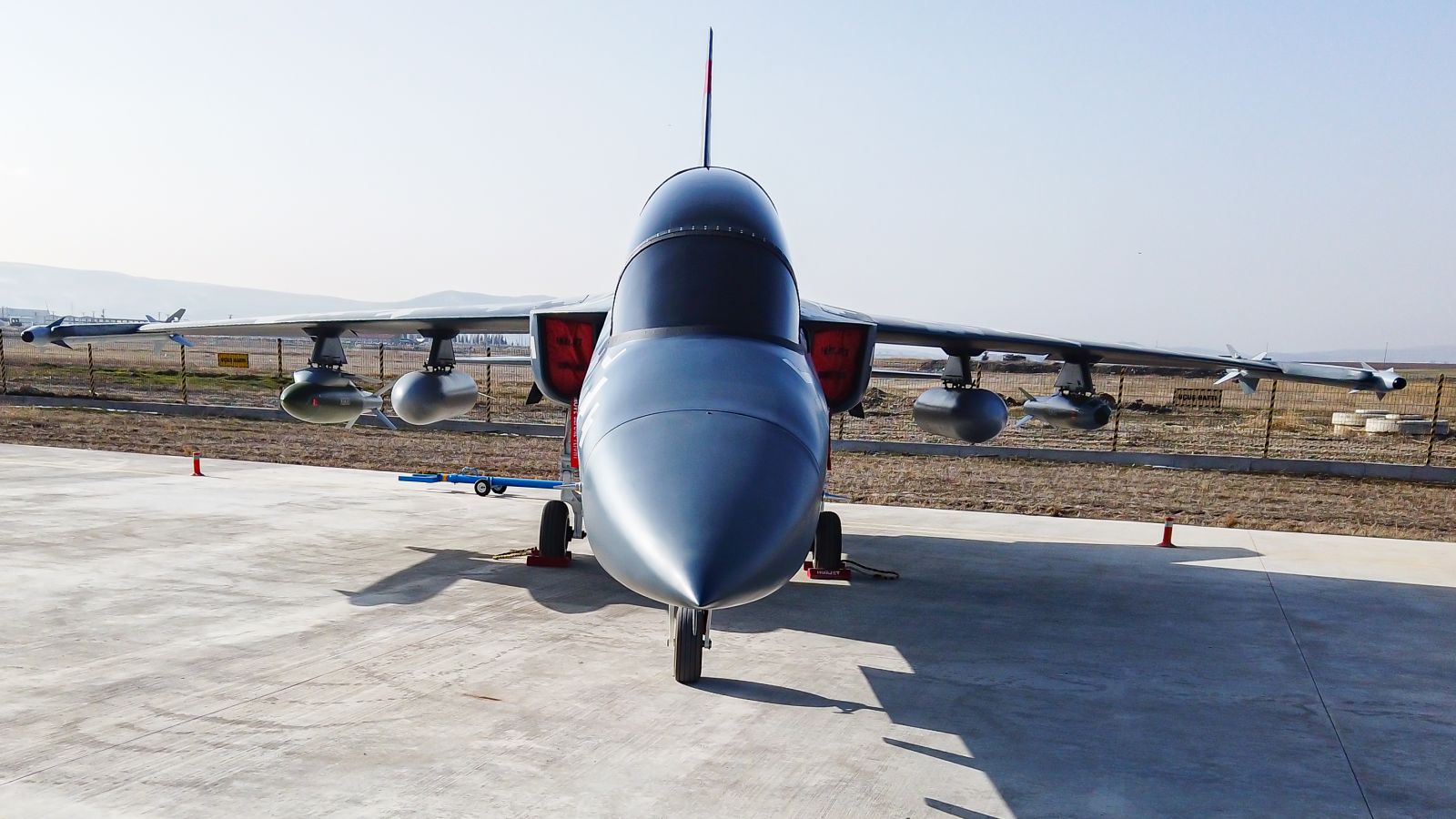 photo: copyright Defence Turkey
As a clean-sheet design the single-engine, twin-seat HÜRJET will be Turkey's first indigenous supersonic aircraft and one of the world's few supersonic trainers. The aircraft is 13m (42.6ft) in length, 4.2m (13.7ft) in height, has a 9.8m (32.1ft) wingspan and 24m2 (258.33 sq ft) wing area. The figures related the predicted empty weight and maximum takeoff weight (MTOW) of the aircraft have not been publicized yet. HÜRJET prototypes will be powered by GE's 17,000lb thrust class F404-GE-102 turbofan engine. Also, a number of series productions of HÜRJET were also planned to be powered by F404 turbofans (supposed to be manufactured by TEI under license in Turkey). According HÜRJET's publicised Technical Specification, the maximum speed of the HÜRJET will be Mach 1.4; the service ceiling will be 13.716m (45,000ft) and the climb rate will be 39,000ft/minute. The HÜRJET will be able to perform +8G/-3G maneuvers and will be capable of sustaining 5.5Gs at an altitude of 15,000ft and up to Mach 0.9 speed. The range of the aircraft will be 2,222km (1,200nm) and payload capacity will be 2.721kg (6.000lb).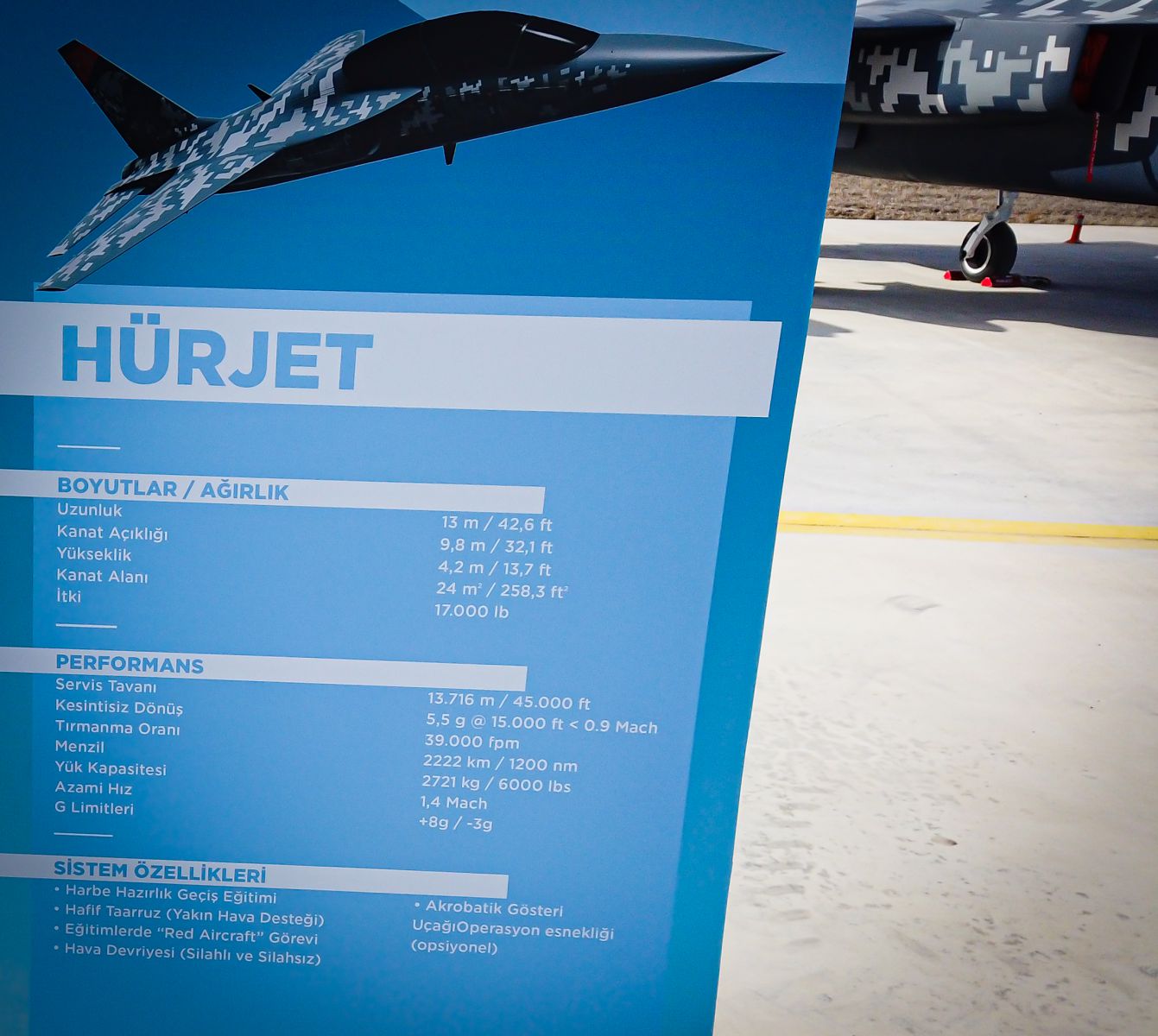 photo: copyright Defence Turkey
As Turkey's first indigenously developed supersonic aircraft the HÜRJET will pave the way for the MMU/TF-X. TUSAŞ currently is aiming to complete the subsystem procurement of HÜRJET. When the subsystem, the engine, etc., is completed, it means most of the work is almost done, then the production stage will start. In early September 2020 TUSAŞ announced that they had established the HÜRJET Test and Evaluation Simulator dubbed HÜRJET 270. Equipped with artificial intelligence (AI) infrastructure, the HÜRJET 270 (with 270-degree field of view) engineering simulator is designed to collect feedback from test pilots to make the design of HÜRJET "better, more solid and more efficient." The simulator is also meant to detect design faults at the development stage. Comprising less costly parts of the original aircraft while still containing its latest technological developments, the simulator will also be able to instantly detect errors encountered by pilots during test runs, a first for the defense industry. Thanks to its real-time software, size, and features, along with its wide viewing angle, existing risks will be identified and eliminated during the development phase. According to TUSAŞ the HÜRJET 270 simulator will feature "human eye-level resolution." It will also collect data for future training simulators. The integration of the simulator's avionic and flight control software, screens, cockpit components and communication equipment were completed by the TUSAŞ Prototyping Office. Speaking on the expected contributions from the HÜRJET 270 engineering simulator to the project, TUSAŞ Deputy General Manager Atilla DOĞAN said: "We have to develop the flight control algorithm and software and the avionics software before the plane is produced and assembled. The 270-degree engineering simulator we developed for HÜRJET provides us with a greater capability to make flight control algorithms, software and avionics software with the input of test pilots."
On September 16, 2020 Stirling Dynamics of the UK announced that they secured a new contract from TUSAŞ to provide technical assistance in the areas of loads and aeroelastics for the HÜRJET aircraft program. This contract builds on previous support provided by Stirling Dynamics, which was initial consultancy to support TUSAŞ up to the HÜRJET's Preliminary Design Review (PDR). Under the new contract, Stirling Dynamics will support TUSAŞ' engineering team as they work towards Critical Design Review (CDR). Stirling Dynamics' engineers will provide support in several formats involving training and guidance, expert review, and off-site work packages. Technical areas of interest include flight and gust loads, buffet, flutter, and validation testing. Henry HACKFORD, Stirling's Aerospace Technical Services Business Unit Manager, commented: "We are delighted to have the opportunity to work with TUSAŞ again on their indigenous aircraft development program. The HÜRJET contract is the realization of a long-standing dialogue with TUSAŞ and provides an exceptional opportunity for us to demonstrate our key strengths."