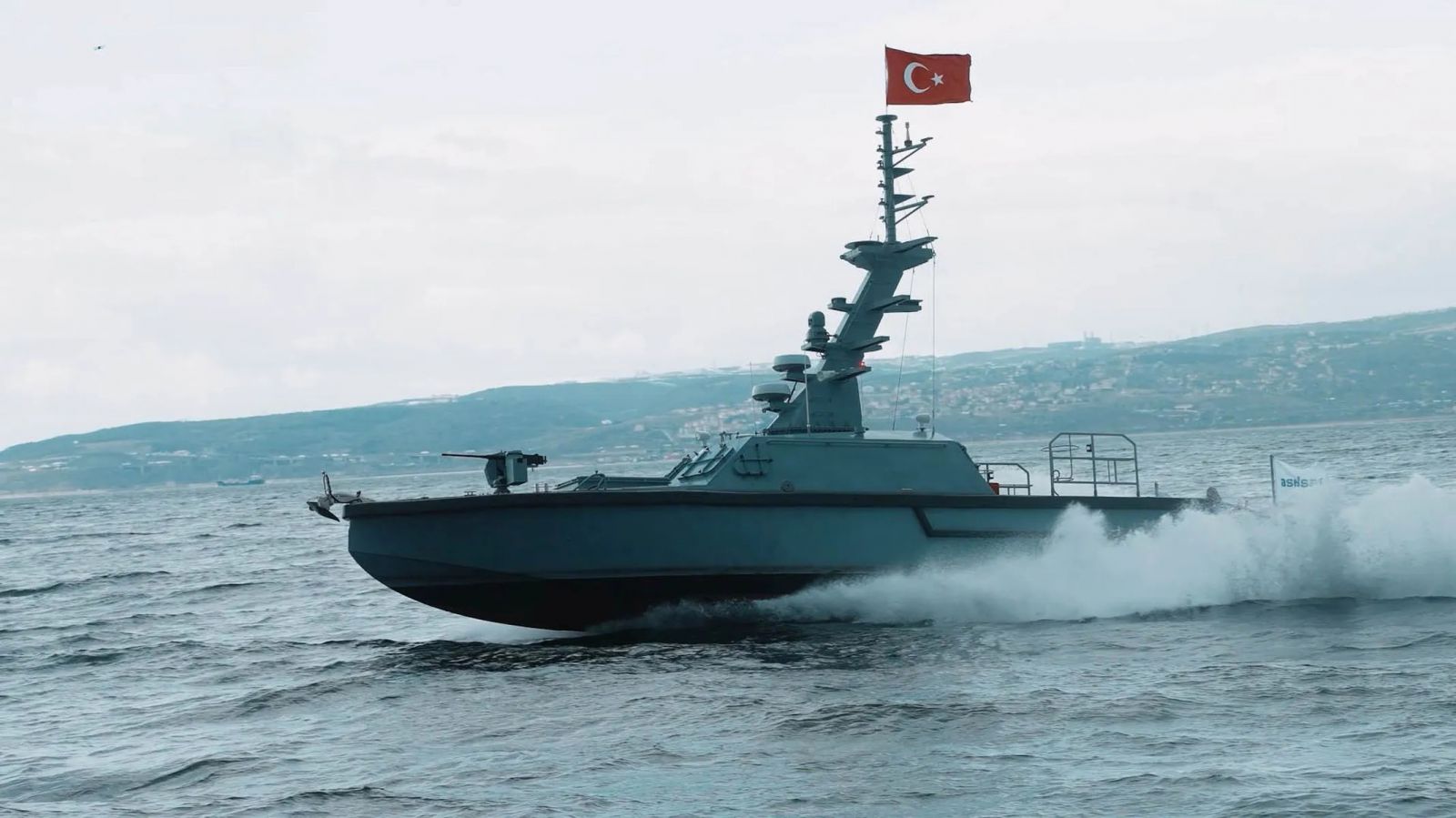 Photograph: MİR AUSV
With the ceremony held at SEFİNE Shipyard on July 7, 2021, the block assembly activities of the Autonomous and Swarm Capable Armed Unmanned Anti-Surface Warfare (ASuW) Vehicle MARLIN, which was known as RD09 at that time, started, and the first steel-cutting of the Autonomous and Swarm Capable Unmanned Anti-Submarine Warfare (ASW) Vehicle MİR, known as NB57, was carried out. SEFİNE Shipyard unveiled its A/USV solutions for the first time during the DIMDEX 2022 Fair in March 2022 in Doha, Qatar. The SEFİNE Shipyard representative, whom we had the opportunity to meet during the fair, emphasized that the first boat was already at the Sea Acceptance Tests (SAT) stage.
MARLIN AUSV, which can be used for the protection of critical bases and ports and perform reconnaissance, surveillance, and patrol missions, and MİR USV, which can detect submarines with its onboard sonar and engage submarines with light torpedoes and ASW rockets, have been designed and manufactured to operate and communicate with UAV/UCAVs and autonomous underwater vehicles (AUV). It is stated that these new-generation approaches can alleviate the operational burdens of the navy, thereby reducing operating costs to reasonable levels. Both vessels will be able to support long-term intelligence-reconnaissance-surveillance operations and provide effective support in missions requiring firepower of manned surface and underwater platforms. In terms of autonomous navigation capability, both vessels will be able to navigate safely on their own by processing the images of their surroundings using onboard obstacle avoidance systems, navigation radar, and electro-optical cameras.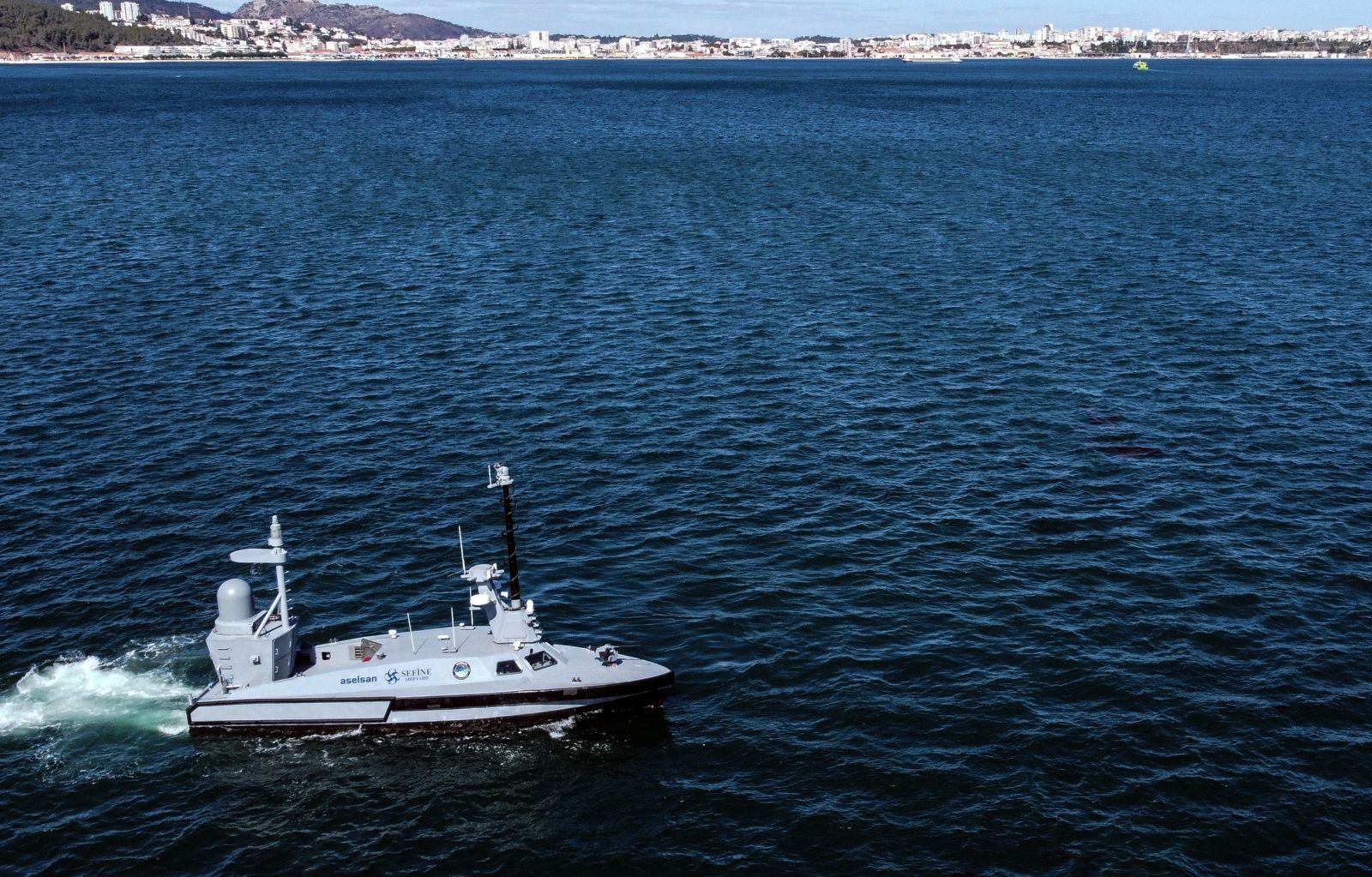 Photograph: MARLIN USV
Both MİR USV and MARLIN AUSV can move to the operation area on their own from the port or can be transported by cargo planes, military ships, or by road and transferred to their mission location. In this context, for example, MİR USV or MARLIN AUSV can be one of the mission modules to be carried on TCG Derya DIMDEG, which can carry mission modules. Apart from TCG Derya, MİR USV and MARLIN AUSV can be carried on BAYRAKTAR Class LST, TCG Anadolu LHD, and other ships providing logistic support, as well as surface vessels with helicopter pads can carry them in special containers and deploy them in the operation area. Both MİR USV and MARLIN AUSV can perform autonomously or with Remote Control together with other naval units and successfully conduct missions with Combat Management Systems (CMS) in an integrated manner.
A SEFİNE Shipyard representative, whom we had the opportunity to meet during the DIMDEX 2022 Exhibition, said: "We are building two Unmanned Surface Vehicle prototypes with aluminum hulls as Concept Development Prototypes, with the partial support of the Defense Industry Agency (SSB) and some with our own internal R&D funds. One of them is the Anti-Surface Warfare (ASuW, RD09) model, and the other is the Anti-Submarine Warfare (ASW, NB57) model. Our first boat will be ready to enter service with our Navy at the end of this year, within its contractual term. Our second boat will have demonstrated its first operational capabilities by the end of this year. In June 2023, it will be delivered to our Naval Forces. So we will deliver the prototypes with a difference of 6 months."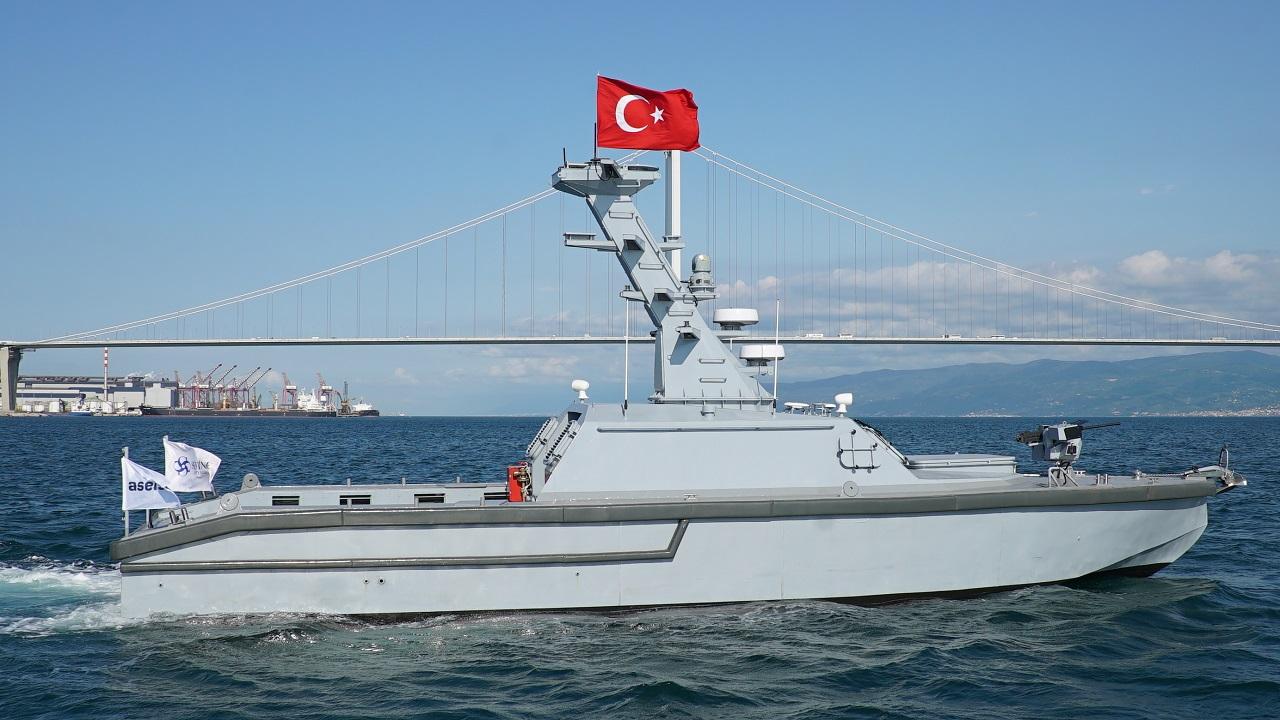 Designed for anti-surface warfare, the RD09 MARLIN can transform from monohull to trimaran form with outrigger hulls (floats) attached to both sides of the hull and on which weapons can be placed. Thus, the payload capacity can be increased, allowing different weapons and systems to be used. The RD09 Autonomous and Swarm Capable Armed Unmanned Anti-Surface Warfare Vehicle, which has two counter-rotating propellers driven by two diesel engines, has a length of 14.75m, a width of 3.85m, a draft of 0.85m, and weighs between 21 to 26 tons depending on the payload and floats according to the product brochure. MARLIN/RD09, which is stated to be able to conduct missions in sea state 4 and navigate in sea state 5, has a cruising speed of 10 knots and a maximum speed of 36+ knots. MARLIN/RD09 is stated to have a cruising range of 700nm and can stay at sea for 7 days. On the product brochure of the scale model exhibited at the DIMDEX 2022 Fair, it was written that the total length is 15m, the maximum speed is 32+ knots, the cruising range is 400nm, and it can operate in sea state 5. MARLIN got its name from a species of swordfish known to sailors as the 'ship-sinker' (because it can seriously damage a boat with its pointed nose).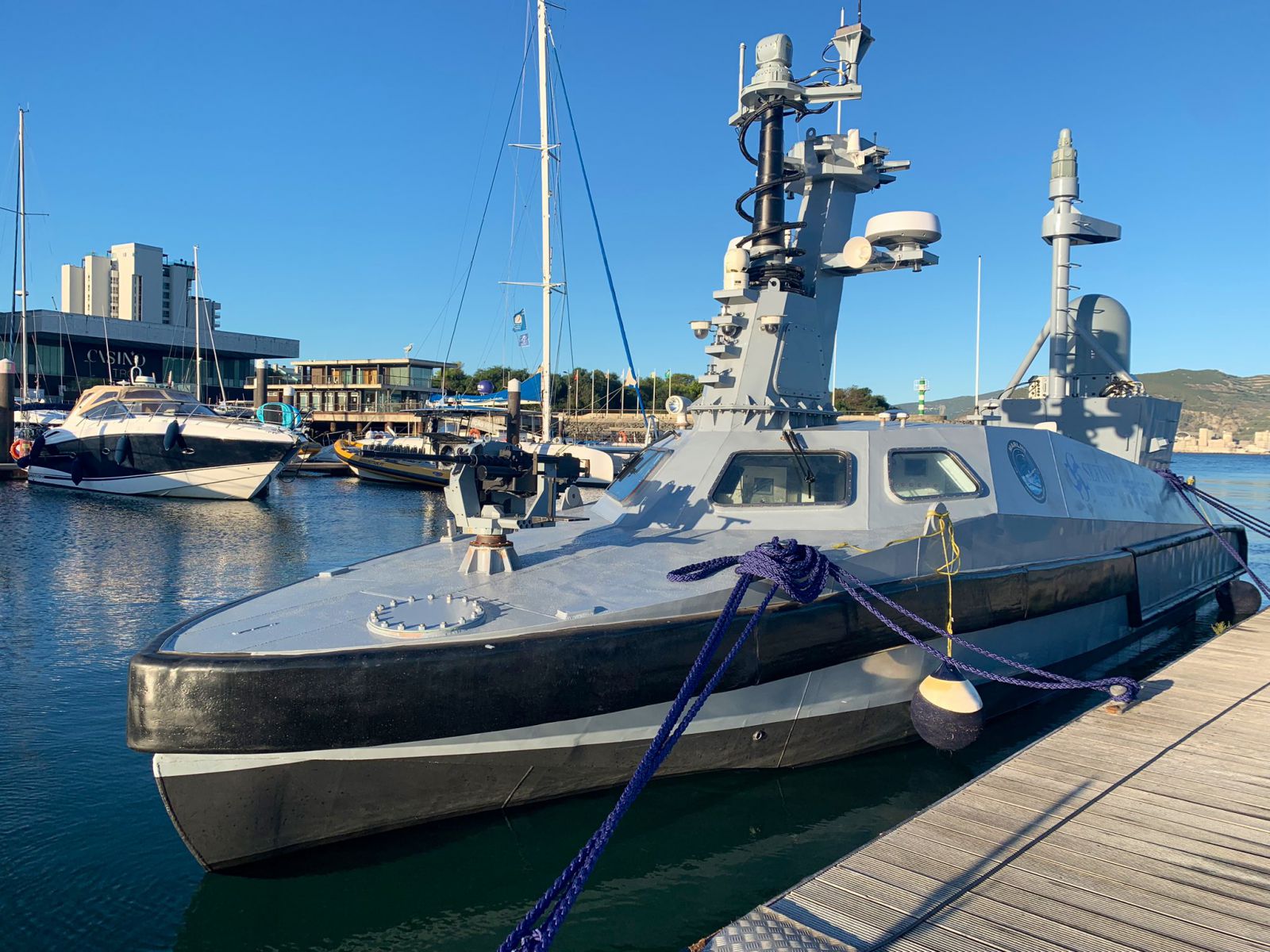 The MİR/NB57 Autonomous and Swarm Capable Unmanned Anti-Submarine Warfare (ASW) Vehicle will be fitted with both ARAS-2023 Diver Detection Sonar, ORKUN-2053 Dipping Sonar, and Sonobuoy Launchers, and it will be ready for delivery by the end of 2022. ARMELSAN product ORKUN-2053 Dipping Sonar will be used in the towed configuration on the NB57/MİR ASW USV built by SEFİNE Shipyard. Just as the ASW Helicopter must hover while performing sonar operations, the USV will dip the sonar at a fixed point and begin to listen if the presence of a submarine threat is suspected. If nothing is detected, it will collect the sonar and move to another location. Like the MARLIN AUSV, the NB57/MİR will also be able to carry different anti-surface/submarine warfare weapons and systems and undertake critical anti-surface and anti-submarine missions.
In June 2022, the approximately 15m long MİR USV was spotted at sea for the first time and operated together with the 7m long ALBATROS-S USVs as part of the Heterogeneous USV Swarm. Although MİR has an aluminum hull and superstructure, part of the mast is made of composite materials to allow RF signals to pass through and not create a blind sector for communication systems. The total weight of MİR İDA is stated as 21 tons, and it is underlined that it can carry a payload of 1/3 of its total weight. Thanks to its high fuel capacity, MİR USV can stay at sea for an extended time (cruising range can be up to 800 nautical miles) and has flexible mission parameters. It can communicate with manned or unmanned platforms and cooperate with the allied command center.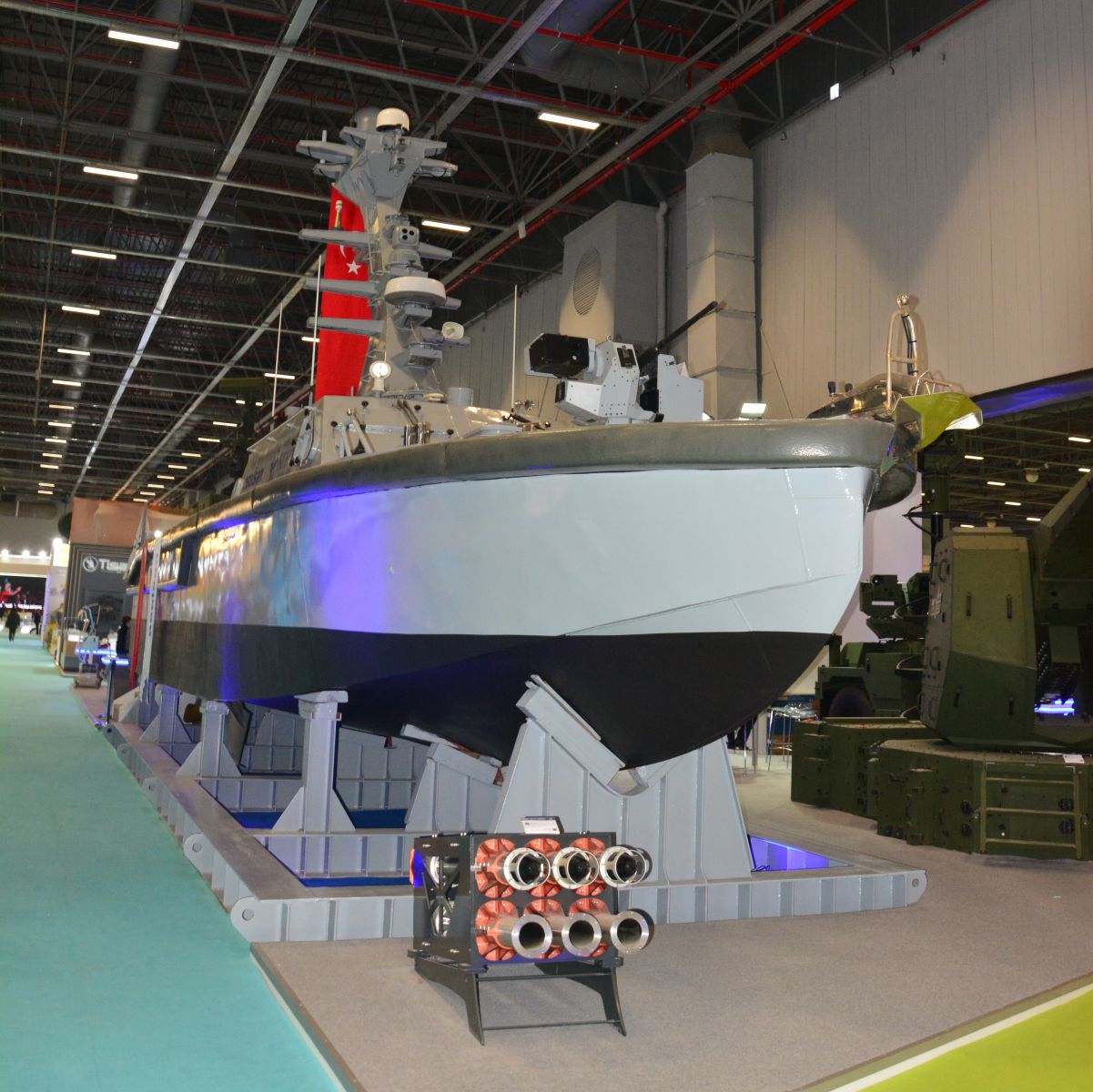 Photograph: MİR AUSV at SAHA EXPO 2022
Designed to operate in open seas, MİR USV is the first Unmanned Surface Vehicle produced for the Turkish Naval Forces for anti-submarine warfare purposes, and it can be used in many different types of naval warfare such as anti-surface warfare (ASuW), anti-submarine warfare (ASW), electronic warfare (EW), mine warfare, and asymmetric warfare. Designed for alternative weapon configurations that can provide high firepower, MİR USV is equipped with high-tech sensors such as navigational radar, ASELSAN SEA EYE KIRLANGIÇ Electro-optical reconnaissance & surveillance system, ASELSAN KARETTA Anti-Jamming GNSS (with anti-jamming and anti-spoofing features), ASELSAN ANS-510D Inertial Navigation System (INS), RF Communication, 4G/LTE Communication Unit (communication capability via GSM networks over 4G LTE), ASELSAN Ku-Band Satellite Communication System (SATCOM also has L-Band – Narrowband Satellite Communication System, it can transmit real-time video and images via SATCOM), Dipping Sonar (DS), Obstacle Avoidance Sonar, Single Beam Echosounder, Diver Detection Sonar and Automatic Identification System (AIS). The self-protection of the MİR USV is provided by the ASELSAN product 12.7mm STAMP-2L Remote Controlled Weapon System. MİR USV will be able to operate within the borders of Blue Homeland without any communication interruption, thanks to its indigenous designed unique communication system that can function in the electronic jamming environment.
The approximately 15m long MARLIN/NB57 AUSV was first spotted in September. On September 15, 2022, President of Defense Industry Agency Prof. İsmail DEMİR announced on his official social media account that MARLIN AUSV is the first Unmanned Surface Vehicle with Electronic Warfare capability in the world (ASELSAN ARES-2NC R-ES System and ASELSAN AREAS-2NC Compact R-EA System). The SEFINE Shipyard representative, whom I had the opportunity to meet with during the ADEX 2022 Exhibition held in Baku, the capital city of Azerbaijan, on September 6-8, 2022, explained that MARLIN AUSV was tested with ASELSAN product Electronic Warfare Systems before the Exhibition and pointed out that MARLIN will participate in NATO Exercises held in Portugal in September.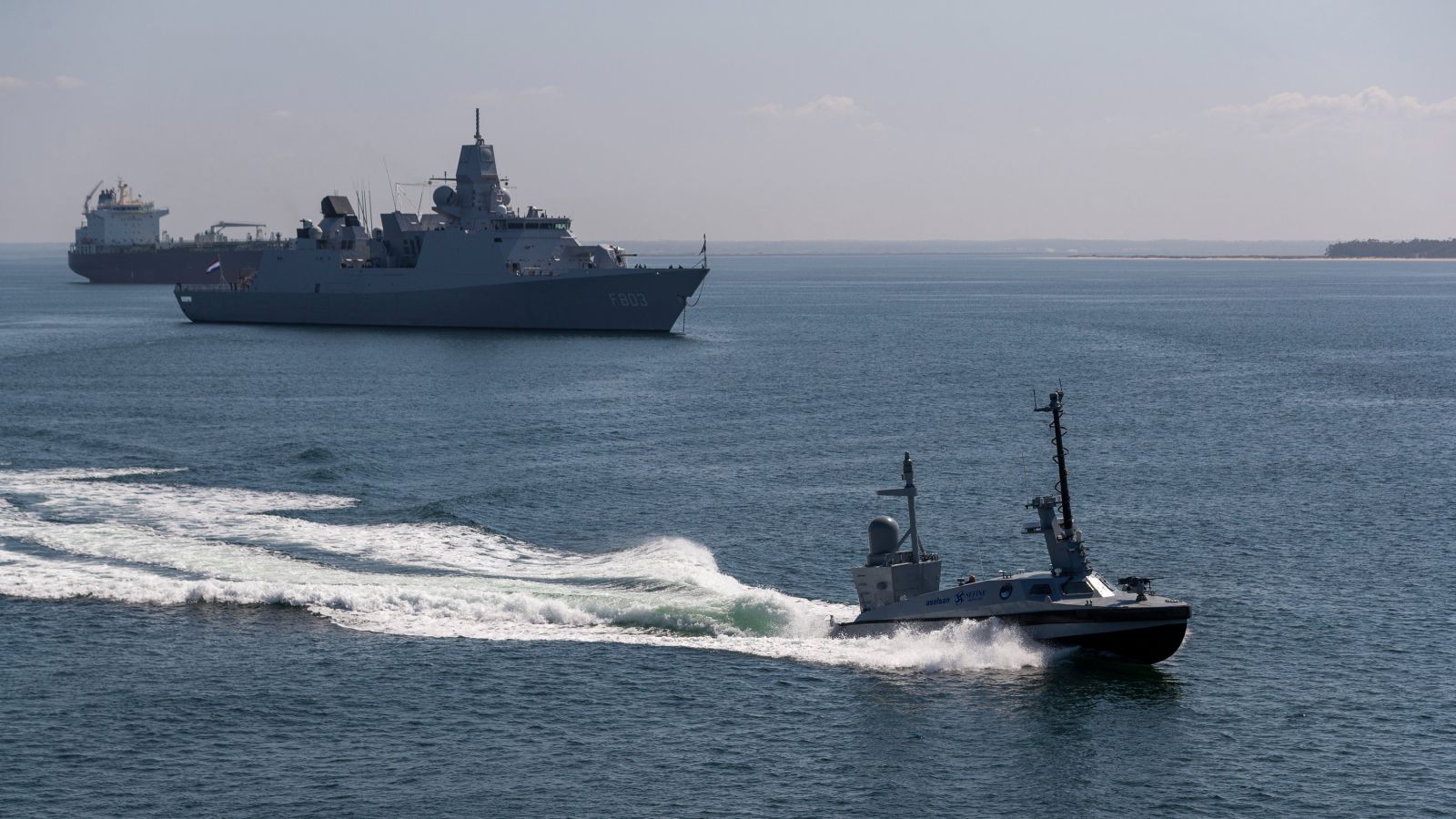 Photograph: MARLIN USV at NATO Dynamic Messenger 2022 Exercise
Developed locally and nationally in cooperation with ASELSAN and SEFİNE Shipyard, MARLIN AUSV participated in the REPMUS (September 12-22) and Dynamic Messenger (September 25-30, 2022) Exercises, respectively, in Portugal. MARLIN successfully represented our country, demonstrating its capabilities in the REPMUS '22 NATO Exercise, which was held on the Troia Peninsula in Portugal with the participation of approximately 1,500 civilian and military personnel from 16 NATO Member countries, including Türkiye. Around 40 Autonomous Underwater Vehicles (AUV), 18 Unmanned Surface Vehicles (USV), about 45 Unmanned Aerial Vehicles (UAV), 16 ships, and one submarine participated in the exercise. MARLIN AUSV was the only platform that sailed out to sea on a day when no one could go out due to harsh weather conditions. During the scenario, which required finding enemy submarines, MARLIN AUSV was the only unmanned surface vehicle that succeeded in finding targets that simulate enemy submarines thanks to its onboard sonobuoy processor. While performing its task, MARLIN also demonstrated that it can jointly operate with manned Navy elements on an international event. MARLIN, which can undertake important roles such as Electronic Warfare, Anti-Submarine Warfare, and Amphibious Warfare, will thus be the first unmanned surface vehicle to represent our country in NATO Exercises of this size.
The MARLIN AUSV is planned to be used in naval warfare operations for defensive and offensive purposes, on the coast or in the open sea. Able to perform critical missions even in the toughest sea states thanks to its unique hull design, MARLIN can carry different payloads such as guided missiles, light torpedoes, 12.7 mm machine guns, electronic attack, electronic support, sonobuoy that extends the sonar range, and towed array sonar systems in line with operational needs.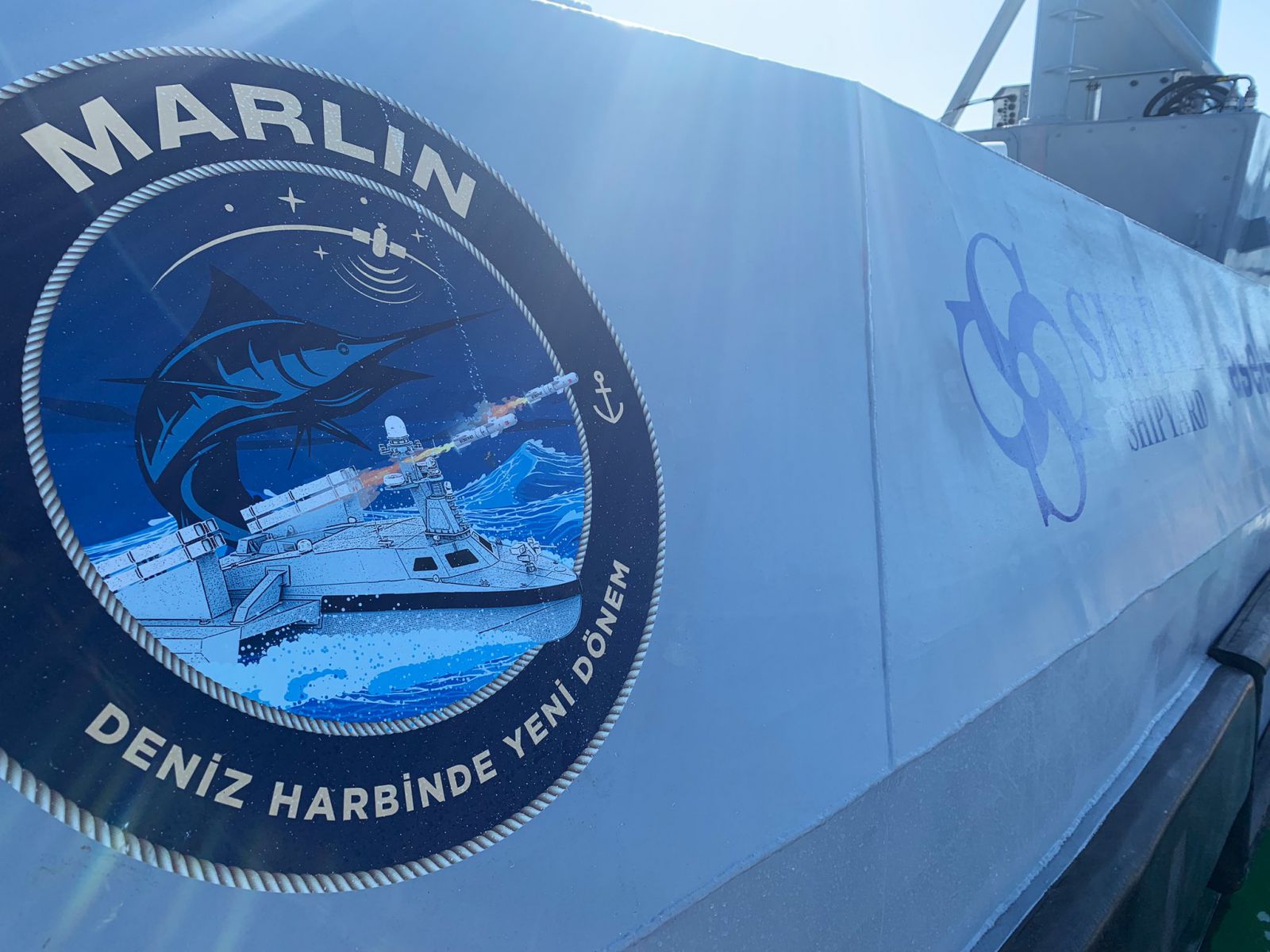 Designed to meet the high speed, stability, and maneuverability requirements, MARLIN is equipped with ASELSAN's remote-controlled weapon station, electro-optical reconnaissance & surveillance system, radar, anti-jamming GNSS, electronic warfare, and national software systems. MARLIN is also considered to herald a new era in naval warfare. In this context, the surface-to-surface, and surface-to-land versions of the KUZGUN-KY (Solid Propellant) missile developed by TÜBİTAK SAGE can also be fired from MARLIN. In this context, a strategic cooperation agreement for indigenous munition systems was signed between TÜBİTAK SAGE and SEFİNE Shipyard in June 2022. The emblem on the MARLIN AUSV, which participated in the NATO Exercises, also included 2 KUZGUN-KY launchers, each with 4 cells, placed on the floats attached to both sides of the hull. KUZGUN-KY, which can reach a speed of Mach 1.5 and reach a range of 40 km, can be used in the fire-and-forget mode on AUSV. KUZGUN-KY, a member of the KUZGUN Guided Modular Munitions Family, will use a dual-mode seeker (will feature both Semi-Active Laser Seeker and IIR Seeker). However, there will also be a version of the KUZGUN-KY with a Millimeter Wave (MMW) Radar Seeker. KUZGUN-KY missile is expected to undergo tests by the first quarter of 2023 and provide significant firepower at sea.