The OTO 76/62 Super Rapid (SR) Gun is a light weight, rapid-fire naval gun providing unrivalled performance and flexibility in any air defence and anti-surface role, particularly in anti-missile role. Capability for very effective engagement of shore-based targets is also provided for unique multirole performance.
The OTO 76/62 SR is suitable for installation on ships of any type and class, including small naval units. Interface to a large variety of ship's Combat Management System and/or FCS/EOS is provided, according to digital as well as analogical standard, including open architecture. With a rate of fire of 120 rounds per minute, the 76/62 Super Rapido system stands out for the Multi - Feeding loading system, which allows selecting in real-time standard and guided ammunition according to a specific scenario, and for the ability to integrate ammunition equipped with multifunctional 3AP fuzes and programmable 4AP fuzes, guaranteeing maximum effectiveness and accuracy.
In operational conditions the tactical time is less than 3 seconds and the standard deviation at firing is less than 0.3 mrad, thus providing excellent accuracy. The OTO 76/62 SR (together with the OTO 76/62 Compact) is the only medium caliber naval gun available in the capable of sustained fire, which is a fundamental requirement in any scenario involving the simultaneous engagement of multiple maneuvering targets, as requested by the emerging asymmetric warfare scenarios. Automatic loading is provided through a revolving magazine and rapid reloading is easily undertaken even during firing action by two ammunition handlers. Standard supply includes the new Digital Control Console (DCC) capitalizing the digital technology to increase the functions available to the operator and to the maintainers. Compared to the naval defence systems of its category today on the market, Leonardo's 76/62 Super Rapido naval gun is able to integrate, in addition to conventional ammunition, also Leonardo's Vulcano ammunition that allows the engagement of a target up to 35 km with accuracy.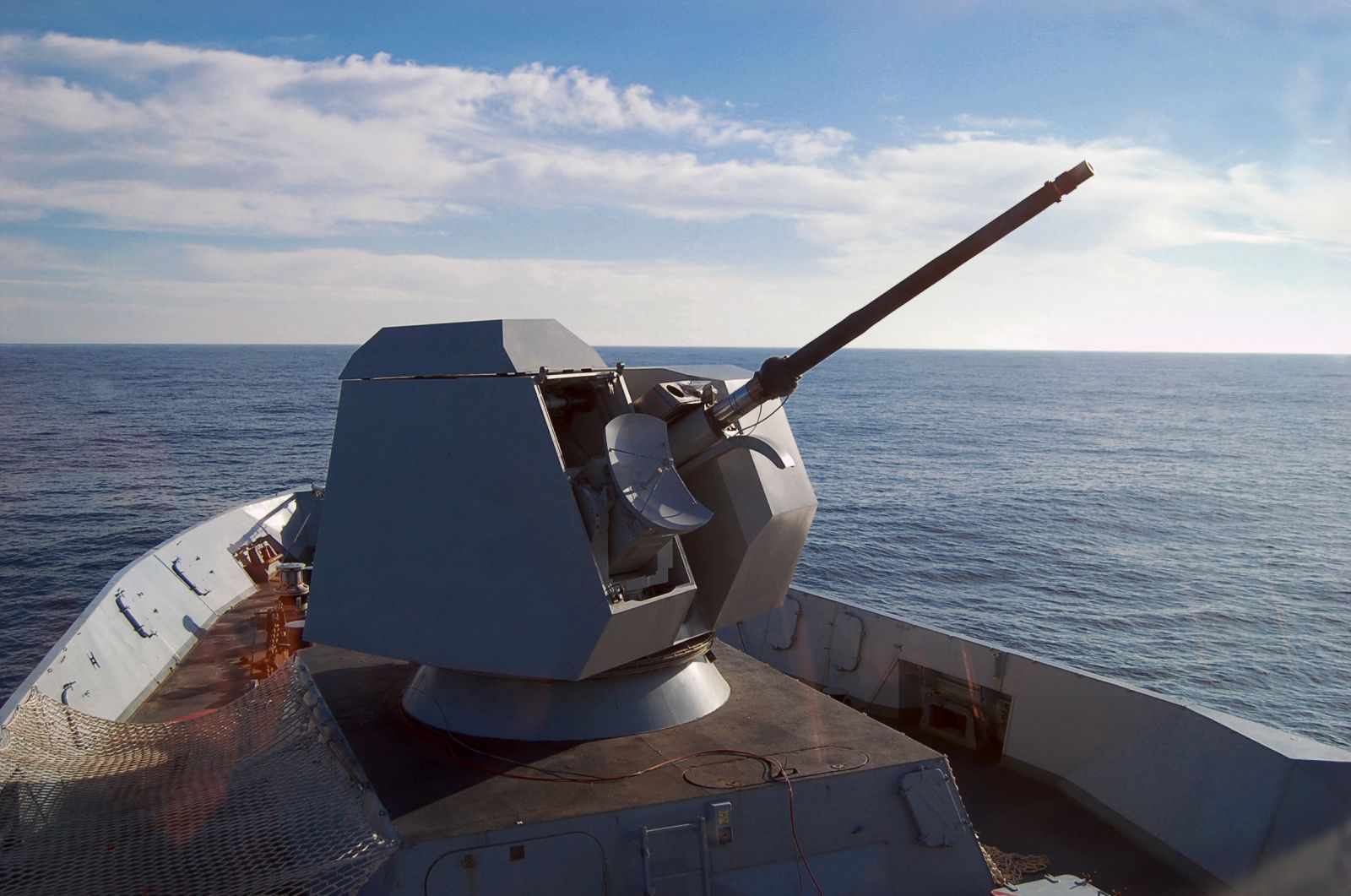 The engagement of the most challenging targets, such as subsonic and supersonic threats, is also guaranteed by the integration of the Leonardo's Strales kit, which includes a special shield for the carriage and an RF antenna to guide the latest generation Leonardo's DART ammunition (Driven Ammunition Reduced Time of Flight) with a high maneuvering capacity (higher than that of a missile), features an engagement range of 6 – 8 km and a programmable fuze able to activate at a certain distance from the target to maximize effectiveness. The OTO STRALES system represents a remarkable evolution for the 76/62 naval artilleries which includes three main components: a 76/62 naval gun, OTO DART guided ammunition and a Radio Frequency Guidance System with associated electronic.

This System is the most effective response to the emerging requirements for medium caliber naval guns, demanding the highest level of lethality within evolving scenarios where multiple maneuvering targets are to be simultaneously engaged, in Air Defence as well as in Anti Surface action. The OTO STRALES is a very cost-effective solution which keeps any advantage related to gun technology and boosts performance by increasing system accuracy to missiles level. Conceived as an add-on kit that can be integrated into the already in service OTO 76/62 gun mounts, OTO STRALES includes a Radio Frequency Guidance System provided with a mechanical frame to be connected to the gun-mount structure. A new gun shield is provided with a watertight cover which can be automatically removed to deploy the guidance antenna; required electronic control unit is accommodated within suitable slots inside the OTO 76/62 New Control Cabinet. Once actual target position and stabilization data are available, OTO STRALES operates as a standalone system. The antenna, by emitting radio frequency (RF) beams, guides the DART ammunition towards the target and guarantees maximum engagement accuracy with 3 or 5 ammunition bursts.
Designed to be compatible with any existing Combat Management System, OTO STRALES allows for all weather functioning. The OTO DART projectile is equipped with the new DART microwave programmable multifunction fuze. A new Multiple-Feeding (MF) ammunition loading system for the 76/62 mm is also available as a separate kit; this kit derives from OTO STRALES Double Feeding (DF), and is able to select any ammunition contained in the branches regardless of its position (typically, OTO DART and standard ammo).