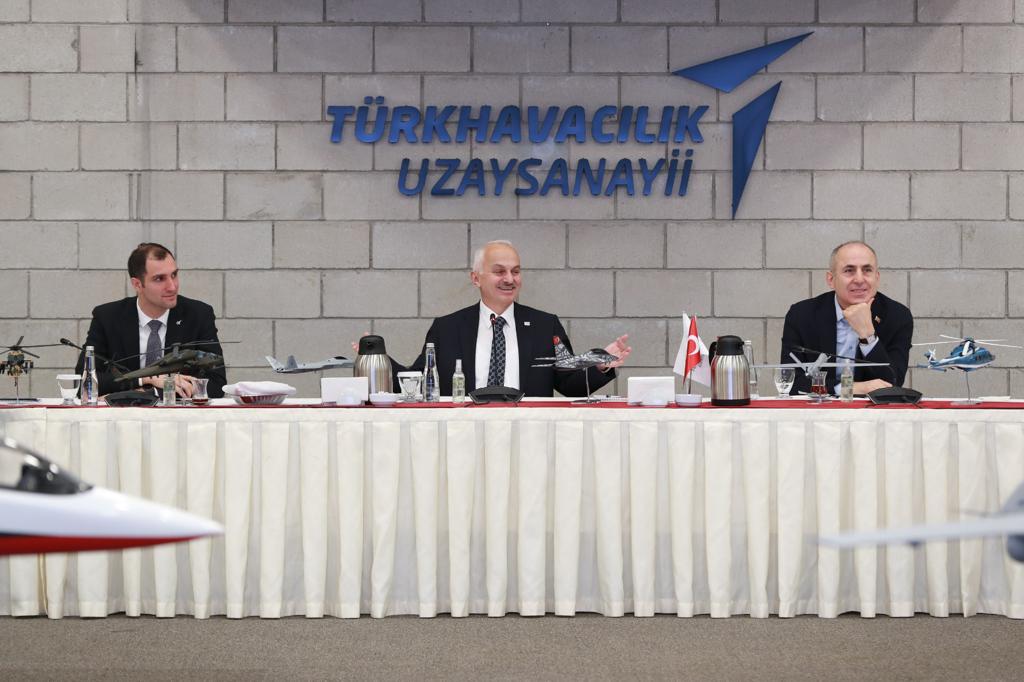 Addressing members of the press at the beginning of his speech, KOTİL said: "We actually wanted you to see the company completely and to picture what you see" and summarized the work they carried out at TUSAŞ. "We are neither doing anything miraculous nor doing anything simple here, but we are gradually gaining talents that Türkiye has not had until now. We don't actually build aircraft, we build TUSAŞ, and the company makes those planes..."
Explaining in his speech why TUSAŞ should be in the top 10 among the world's aerospace giants, KOTİL said: "It is possible to be among the top 10 aerospace companies. It is not something impossible. However, it doesn't happen in a day." KOTİL explained the importance of being in the top 10, "Why is the top 10 important? When you enter the top 10, you must hold on to the new technology level. If you are at the bottom, then you cannot know what is done at the top. This is called the 'head table.' You cannot follow the world if you are not at the head table. We aim to be on the 'head table' in aerospace." KOTİL listed the essential conditions for being on the 'head table' as physical infrastructure, human resources, facilities (design, manufacturing, testing, and certification capabilities), and products to crown them.
Pointing out that TUSAŞ needs to increase its turnover from US$2 billion to US$10 billion and reach 10,000 engineers to enter the top 10, KOTİL stated that they expect their current turnover to increase very rapidly thanks to exports. Explaining that the number of engineers is approaching 10,000, but they need to gain experience, KOTİL said: "Our indigenous products must also be on the market. We think we should do that by 2028. We had a 10-Year Master Plan. US$10 million in turnover, 10,000 engineers, 10,000 technicians, but all experienced. After that, introducing these indigenous products to the market, especially MMU, brings us to the top 10..." Noting that they really aim for the top 10 among aerospace companies in the world and do what is necessary, KOTİL said: "It means people, it means engineers, it means infrastructure. To be in the top 10, TUSAŞ will also have to enter the civilian sector (design and production of civil passenger aircraft), but it is not right to talk about this while the MMU process continues. Let me tell you what I saw in this company; we have no problem with capability. In other words, we have no problem with manufacturing..."
Stating that TUSAŞ, which was established in 1973, used the advantage of being a newcomer in the aerospace field, KOTİL showed HÜRJET as an example, which was designed not as a classic 2-engine trainer aircraft but as a single-engine new generation advanced trainer and light attack aircraft. In this way, instead of being one of the 10 similar aircraft in the market, it became the third competitor of the single-engine T-50A Golden Eagle and T-7A Red Hawk aircraft. KOTİL pointed out the layout of TUSAŞ facilities as another example of the advantages of a newcomer company. "We have set up all the facilities in a compact way. In other words, an MMU engineer can walk and see the wind tunnel test, mechanical test, lightning test, or electromagnetic reflection test."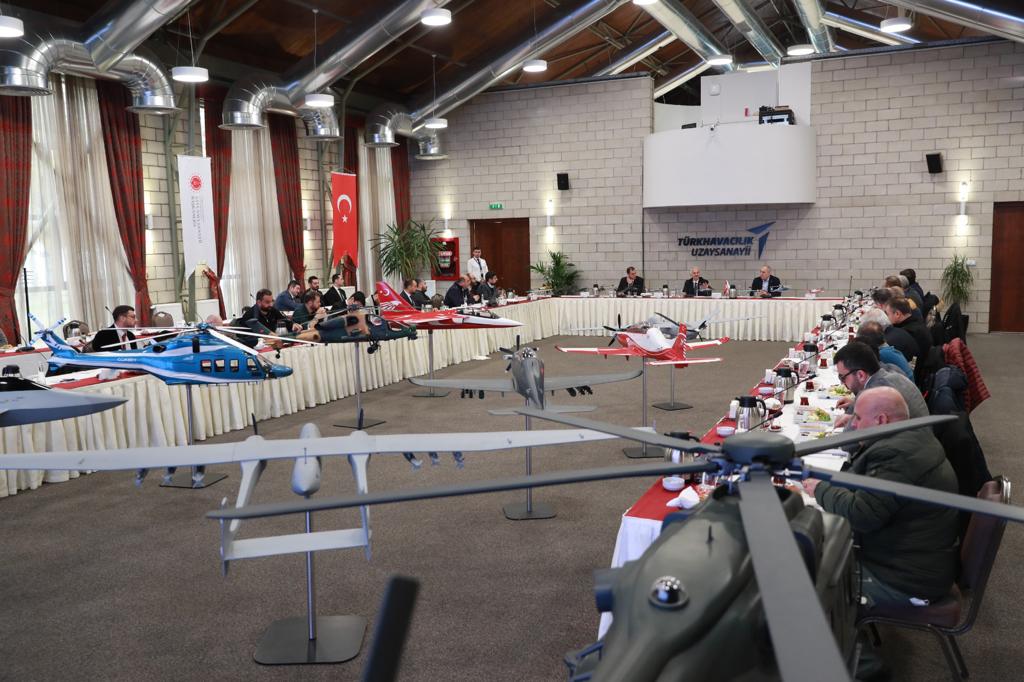 In his speech, KOTİL also referred to the projects, production models, and experiences of TUSAŞ from past to present and said that thanks to the Final Assembly of the F-16s at TUSAŞ facilities a significant number of technicians were trained, but they could not train engineers because they did not have design responsibility in the F-16 Project. KOTİL then talked about the capabilities TUSAŞ gained from the T129 ATAK Project, which was initiated with AgustaWestland (now Leonardo Helicopters). "ATAK Helicopter attracts the most attention from our customers. Even though it is a semi-indigenous product, the feedback from the field provided us with abnormal capabilities." KOTİL reminded that Airbus Defense & Space (ADS) Company gave TUSAŞ the design and manufacturing responsibility of the Front-Mid Fuselage in the A400M Project of which Türkiye is the participant partner and TUSAŞ is also a shareholder. KOTİL said that they did not take part in the concept design of the aircraft, but TUSAŞ manufactured the Front-Mid Fuselage by making the structural analyses and tests of the external geometry, the thickness and cross-sections of the airframe, and the dimensions of the coatings. "The method here is not ours from end-to-end. If we had built the 400M from end-to-end, TUSAŞ would be in a very different place."
Stating that 'you cannot train engineers unless you have a project with an indigenous design concept,' KOTİL listed the indigenous projects initiated by TUSAŞ in the period before he took office as ANKA, HÜRKUŞ, and T625 GÖKBEY. KOTİL then shared information about the GÖKBEY Project and its importance. "GÖKBEY is an indigenous project designed from scratch. In fact, it is the beginning of all the indigenous helicopter projects of TUSAŞ today. We will deliver 3 helicopters to the Gendarmerie at the moment. Making a helicopter actually means producing the transmission of the helicopter. The transmission transfers power from the engine to the gearbox, which propels the main and tail rotors. This whole system is called the 'powertrain.' If you can make this, you can be a helicopter manufacturer. GÖKBEY's powertrain was designed in Türkiye, manufactured by TUSAŞ teams, and has made its first flight. This is an indigenous project end-to-end. Of course, when an indigenous product comes out, it boosts morale; people say we can do it..."
KOTİL also talked about the HÜRJET Project, one of the indigenous projects initiated during his term. "While designing HÜRJET, we planned it to be the best seller in the world. Among the recently developed jet trainers, there is Boeing's T-7A aircraft, which won the tender for the U.S. Air Force. There is also the T-50 aircraft made by South Korea. If I'm not mistaken, Lockheed Martin provided technical support for T-50. These are single-engine trainers; as far as I know, there are no other single-engine trainers, and they use the F404 Engine. Our aircraft is also in this category. The jet trainer of Korea Aerospace Industries and TUSAŞ are in the same class. There is also a similar plane in India, but I don't know how good it is. We designed this aircraft as a concept aiming for the top..."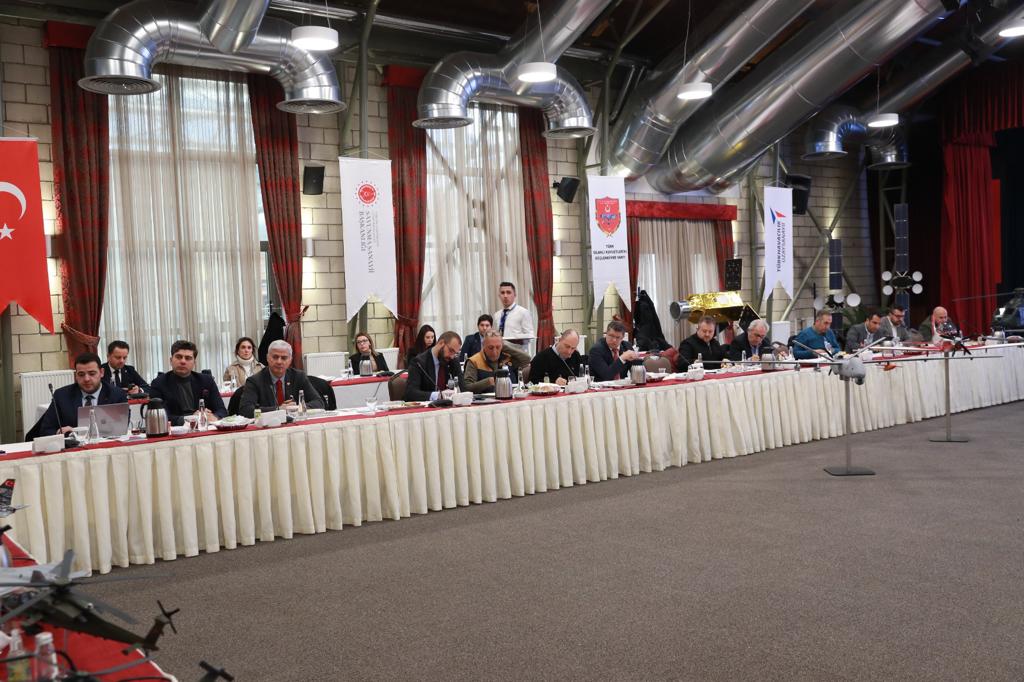 KOTİL also mentioned TUSAŞ's offices abroad in his speech and drew attention to the fact that they use them both for promotional purposes and as a source of engineers. "We use quite a lot of engineers from Malaysia and Pakistan. As you know, for example, countries like the United States can attract people very easily. On the other hand, we go to them, and instead of bringing those people here, we open an engineering office in their country. For example, HÜRJET's Flight Control Computer is being developed in Malaysia. We are also competing in a tender in Malaysia. They want to buy 18 light jet trainers. We continue the campaign in that tender. We are also making HÜRJET's computer there right now."
KOTİL emphasized that approximately 1,300 engineers are still working on the MMU/TF-X Project, another indigenous project initiated during his term. KOTİL pointed out that the real reason behind the faster-than-expected progress of both HÜRJET and the MMU/TF-X Projects is the experience of the personnel. "The know-how from the 2000s, the knowledge, and experience from the F-16, showed itself here. They installed the MMU's engines. I was here when the engines were mounted for the first time. They installed the engines in just a few hours. They may have installed engines for the 100th time so far. So, our biggest asset is not these planes but the ones who make them. The real reason behind the faster-than-expected progress of both HÜRJET and the MMU/TF-X is our experienced personnel. In other words, our capital, experience, and people..."
Noting that the National Combat Aircraft (MMU/TF-X) Project allowed TUSAŞ to build extra facilities, KOTİL said that if the MMU Project did not exist, they would not be able to make substantial infrastructure investments such as the 95,000 square meters composite facility and the MMU Hangar, which can house 2 MMU/TF-X Aircraft at the same time. Reminding that additional facilities will be built under the MMU Program, KOTİL said: "MMU's hangar, which we will show today, can accommodate 2 aircraft at the same time. But of course, it is not enough to produce 2 aircraft per month. To make 2 aircraft per month, you also need to assemble 10 planes there. So, in the coming years, we will need a production hangar." The Near Field Radar Cross Section Measurement Facility, which is designed to be the largest in Türkiye and the 5th largest in the world in terms of capacity and capability, is expected to start its operations in the second quarter of 2024. The Near Field Radar Cross Section Measurement Facility, designed to detect the visibility and size of the MMU/TTF-X on radar, will be one of the most modern facilities in the world with its state-of-the-art infrastructure.
KOTİL noted that while they had 600,000 square meters of indoor space before, they have exceeded 700,000 square meters today and have no indoor space problems. Stating that TRMotor company, which is 100% owned by TUSAŞ and was established for the design and development of new generation engines to meet Türkiye's need for aircraft engines, has built a large facility in TUSAŞ's Kahramankazan Campus, KOTİL said that HAVELSAN also constructed its own building next to the MMU facility with the decision of the Board of Directors. "We want Foundation companies to establish facilities here because MMU is not only a project of TUSAŞ, but also of Türkiye."
KOTİL explained that TUSAŞ has two sides; product development, which is the difficult part of the job, and serial production and sales, and emphasized that what is essential for the company is actually the serial production and sales. "The first part eats resources, and the second brings money. That's why we are accelerating GÖKBEY's serial production. Hopefully, HÜRJET's production will start in 2025, and we will also deliver the aircraft in 2025. ATAK II will also be delivered in 2025. As I said, it's a thrill to make one prototype and show that it works but delivering is the second big thrill. In fact, our company has come so far, but we have not accomplished everything."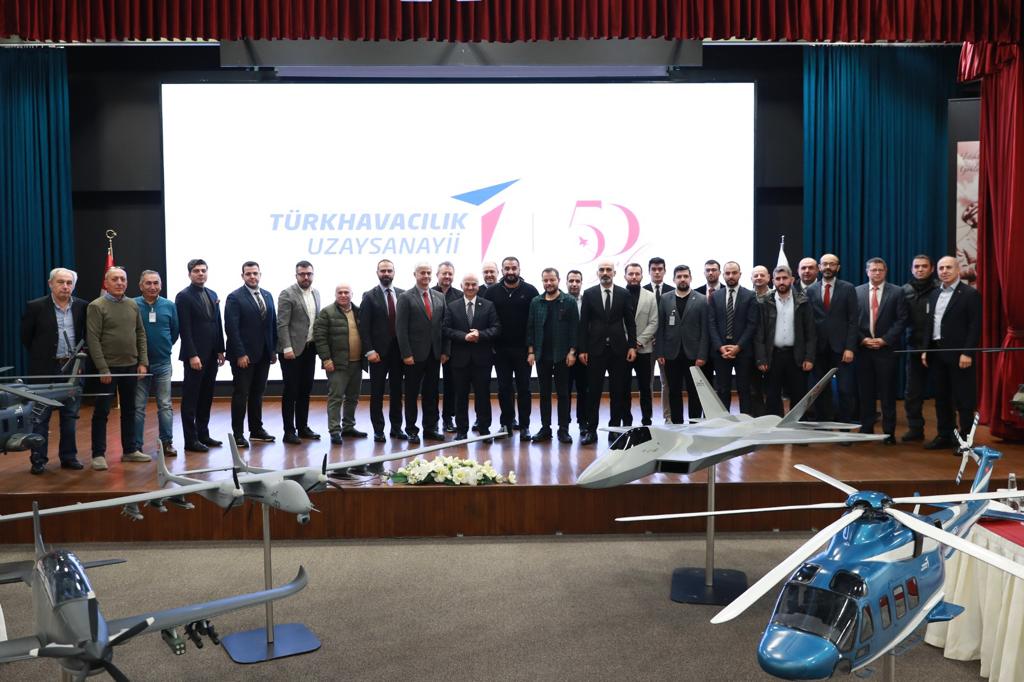 Emphasizing that MMU/TF-X is by far the most challenging project among the ongoing projects, KOTİL underlined that the difficulties of these projects are not technical but organizational. "You must manage so many people, infrastructure, and facilities together. What's challenging for countries is managing large technological projects. You need to bring people together, you need to set up infrastructure, and you need to make them work together. Of course, at the top of this, you should have competent leaders who will lead all the operations. Thank God it looks like we have it. That's why we can achieve all our goals."
Explaining that TUSAŞ not only produces aircraft, helicopters, and UAVs but also produces surveillance satellites (such as GÖKTÜRK-III and GÖKTÜRK Replacement Satellite) and communication satellites (such as TÜRKSAT 6A), KOTİL said that they won a tender to produce a modern communication satellite for the Argentine national telecommunication company ARSAT S.A. and that this modern communication satellite, which is still in production, will be sent to orbit within 2 years. TUSAŞ will export HTS Communication Satellite technologies with high output power for Argentina's national telecommunication company ARSAT S.A. and has established the Joint Venture Company GSATCOM Space Technologies Inc. in partnership with Argentina-based INVAP S.E. in Ankara METU Technopolis. The ARSAT Communication Satellite will have 24 transponders and will weigh 1-1.5 tons since it will need less fuel thanks to its electric propulsion system. KOTİL shared information about the electric propulsion system and its advantages. "Typically, classical communication satellites weigh 4-5 tons. They contain a chemical called hydrazine. That means nearly 2 tons of fuel in a 4-ton satellite. Satellites keep themselves in orbit for their 15-year lifespan using small thrusters, and those thrusters use hydrazine as fuel. Because satellites don't stay in their orbits perfectly and deviate from their orbits, they periodically correct their trajectory. Also, after the launch, when the carrier rocket releases the satellite, it slowly gets into orbit with its own propulsion. As you know, communication satellites must stay a certain distance over Türkiye in their position because it disrupts the broadcast of the other satellites. This is the case with classical communication satellites such as the TÜRKSAT 6A. But as TUSAŞ, we said we need to build a modern satellite. That's why we agreed and partnered with the Argentinean company INVAP to develop a Small-GEO satellite. It uses electric propulsion; you don't use that much hydrazine fuel. Why? Because the thrusters are driven mostly by electric power. This is called the ion thruster. It creates a very high temperature with electrical power, and solar panels provide electricity. Then the satellite goes from 5 tons to 1.5-2 tons; this is the modern approach. A field that is new for Airbus, new for Thales..."
Question & Answer Session
After his speech, the President & CEO of TUSAŞ Temel KOTİL, answered press questions. Responding to our question if there would be a twin-engine version of HÜRJET in the future, considering TEI started the development of the TF-10000 Turbofan Engine with 10,000lb thrust, KOTİL pointed out that single-engine is the modern approach for Light Attack and Trainer Aircraft such as HÜRJET and since the aircraft is not twin-engine, a similar engine such as the F404 with 17,000lb thrust should be developed as the domestic counterpart. "Of course, it is not on our agenda right now because we have to build the MMU engine first."
In response to our question on whether the MMU/TF-X could perform joint operations with Unmanned Combat Aircraft such as ANKA-3 as part of the 'loyal wingman' concept and whether the two-seat version of the MMU/TF-X is on the agenda, KOTİL pointed out that both HÜJET and MMU/TF-X are fly-by-wire aircraft (the movements of flight controls are converted to electronic signals transmitted by wires, and flight control computers interpret the pilot's control inputs as a desired outcome and calculate the control surface positions required to achieve that outcome), and digitally controlled aircraft can also be converted into unmanned if desired. Explaining that the MMU/TF-X can land on its own (autonomously) even if the pilot faints, KOTİL said: "The MMU is a manned but fly-by-wire aircraft. It's digitally controlled, an autonomous aircraft. There is no need to put a co-pilot in this plane. In other words, you don't need a pilot to control the aircraft and a co-pilot to control the weapon systems. Why? Because 5th Generation fighters engage from far away. That's the concept. The MMU can go on its own; the pilot only tells the plane whatever maneuver it needs to do. There is also a multiple, powerful computer system called the IPU, which handles all the tasks. These (flight control system and mission computer) are integrated with each other."
TUSAŞ has previously produced a total of 308 F-16C/Ds, of which 262 were for the Turkish Air Force under the PO-I, PO-II, and PO-IV (Peace Onyx) and 46 for the Egyptian Air Force under the Peace Vector IV Program. In response to our question on whether TUSAŞ will play any role in the procurement of 40 new F-16V Block 70s and the modernization of 79 F-16C/Ds in the TurAF's inventory to Block 70 level, which is still under negotiation with the USA, and whether TUSAŞ's existing production infrastructure and engineering capabilities are sufficient for this job, KOTİL stated that they have already notified Lockheed Martin that they want to carry out the Final Assembly of the F-16s if there is such an option. "Teams from Lockheed Martin visited our facilities. We even have the whole fasteners used in the Final Assembly of fuselage parts and components of F16s, and we showed it to Lockheed Martin. If they let us, we can do it; we would like to do it. We don't have any redundancy because we continue to hire about 1,000 engineers a year. We hired 1,500 engineers last year. This year, we are hiring 1,200 engineers. We're hiring just as many technicians. We have passed 13,000. At the end of the year, our total number of personnel will be around 16,000. We started with 5,000, and we're about to reach 16,000. Therefore, we both hire and train people and accomplish more work. But not all, only the ones that suit us..."
KOTİL gave the following answers to questions from other members of the press.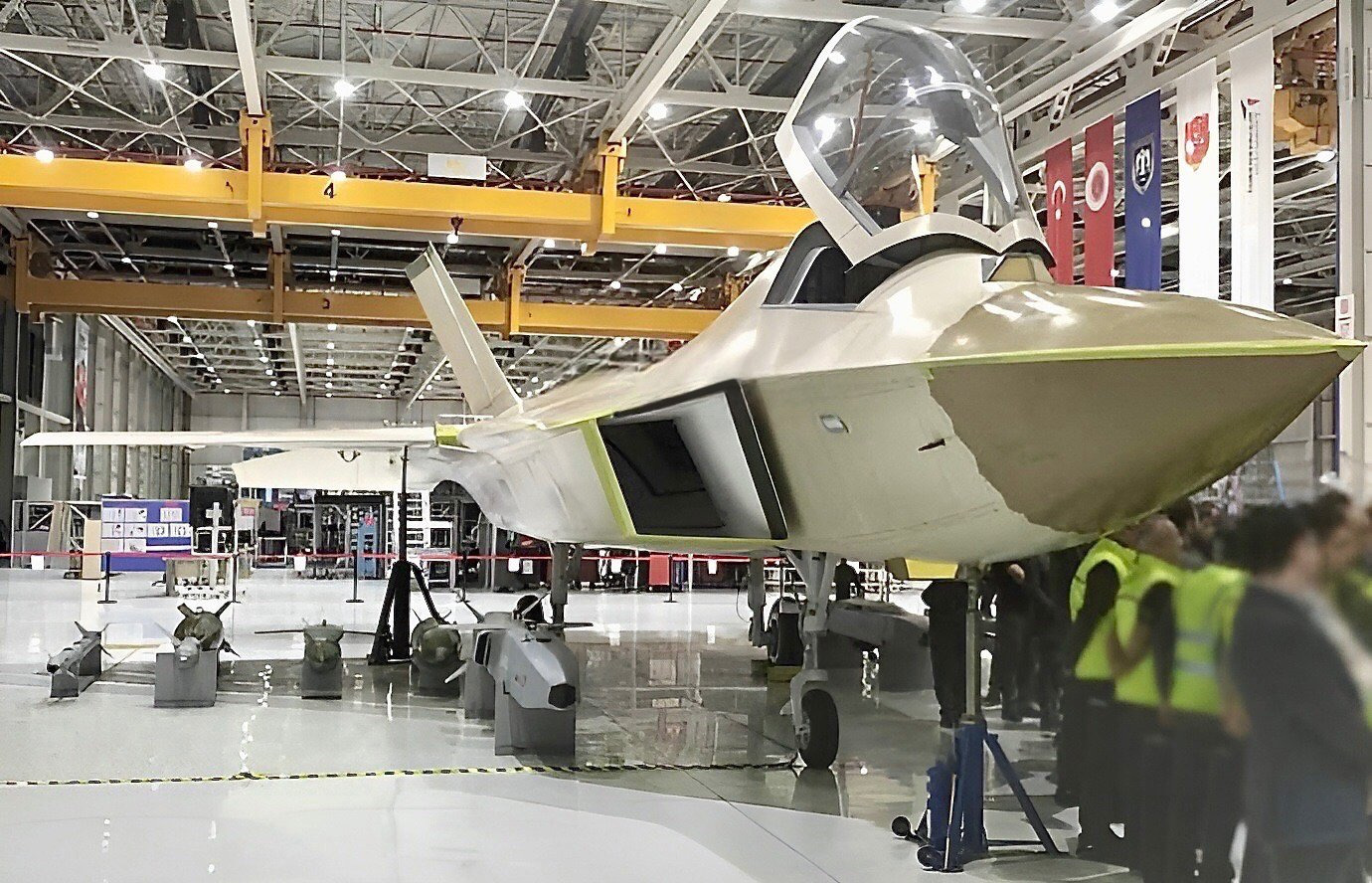 Q: What is the local content rate in the MMU/TF-X Aircraft?
The engines, ejection seat, side stick, valves, and a few other parts that will not cost a lot of money are procured from abroad. These parts and subsystems do not exceed 15%.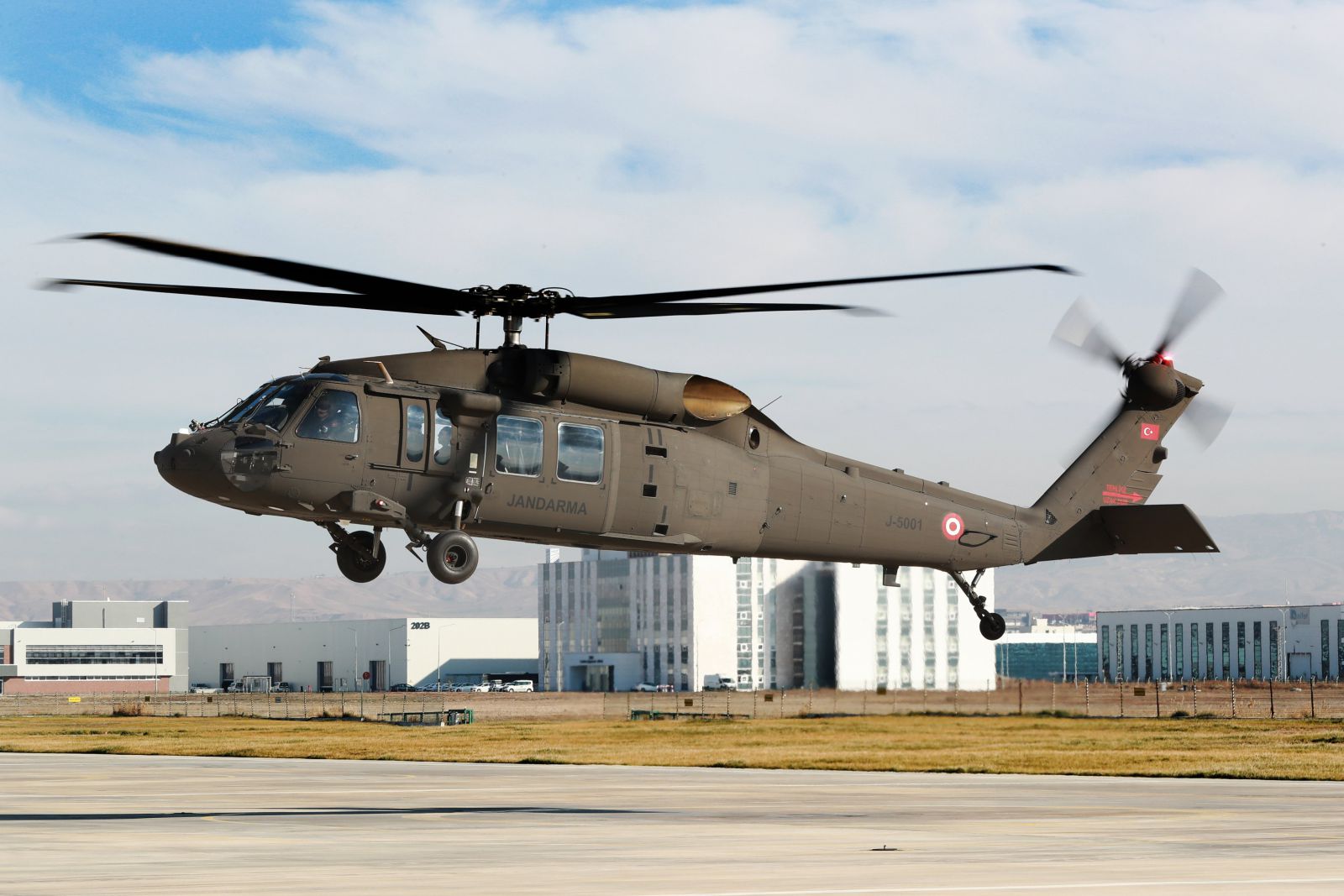 Q: What will be the fate of the Turkish Utility Helicopter Program if you cannot get permission from the US Government for the second batch after the production of the first batch of 38 T70 helicopters is finished?
A license extension is required when the production of 38 T70 Helicopters under the Sikorsky license is completed. Sikorsky is working on that, and TUSAŞ believes Sikorsky will get the license. If the license cannot be obtained, TUSAŞ believes it can produce a new and better utility helicopter than the T70, using the local powertrain, avionics, and flight control system, with the know-how and infrastructure from the ATAK II (6,000hp powertrain) and T625 GÖKBEY Projects (GÖKBEY's Flight Control Computer and Avionics Suite is produced by ASELSAN, 1,600 hp Engines are developed by TEI, and the powertrain is designed by TUSAŞ, cockpit glass/canopies are made by Turkish companies). KOTİL said: "I believe GÖKBEY, with up to 12 seats for passengers, will be a successful helicopter in its segment. Of course, we are also developing the big one carrying 22 people (T925). So, we are creating a family of helicopters that will meet the needs of everyone with 4 domestic helicopters."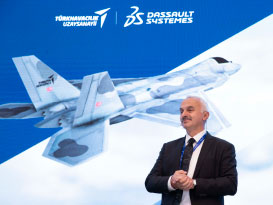 Q: Does the use of commercial software create any security problems?
The entire design team of TUSAŞ works on the Red Network, which is closed to the outside and has no access. That's why TUSAŞ engineers cannot work from home; they must come to TUSAŞ. All designs and the design software are kept on the Red Network. Of course, there is no security problem because the Red Network is not open to the internet and cannot be accessed from the outside. The Black Network is used in company management, payroll transactions, and routine communication activities. TUSAŞ uses several networks like this.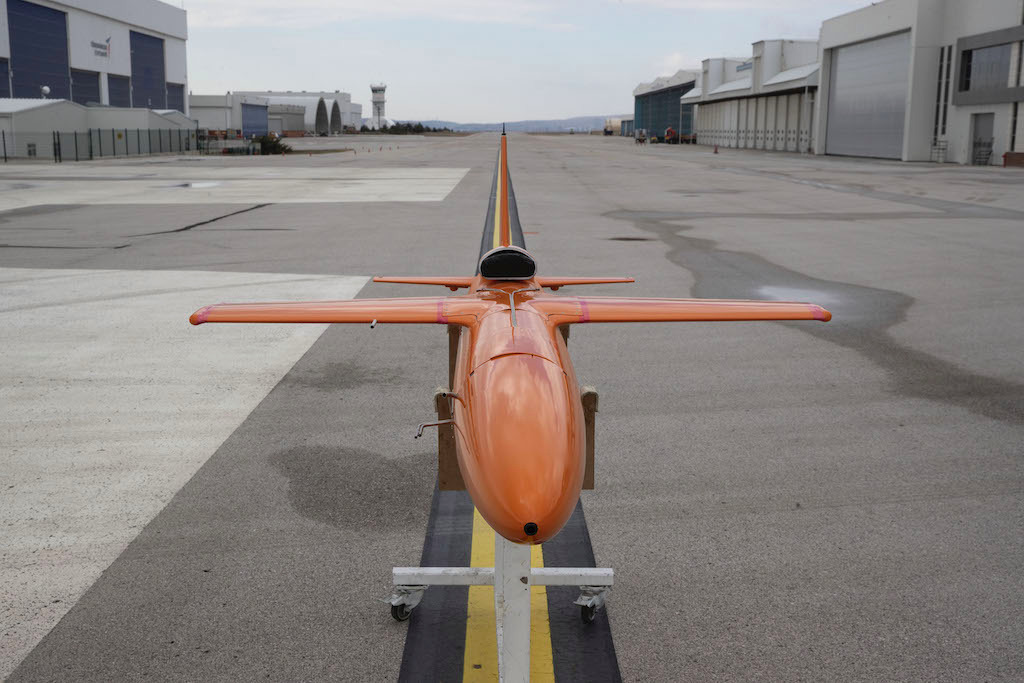 Q: Will ŞİMŞEK be used as a High-Speed Target Drone and Cruise Missile?
ŞİMŞEK is a successful system designed as a target drone. It can reach hundreds of kilometers when launched from ANKA or AKSUNGUR UAVs. Thanks to its warhead, it can also be used as a kamikaze drone or a simple cruise missile. Different versions are currently being developed; they will be introduced soon.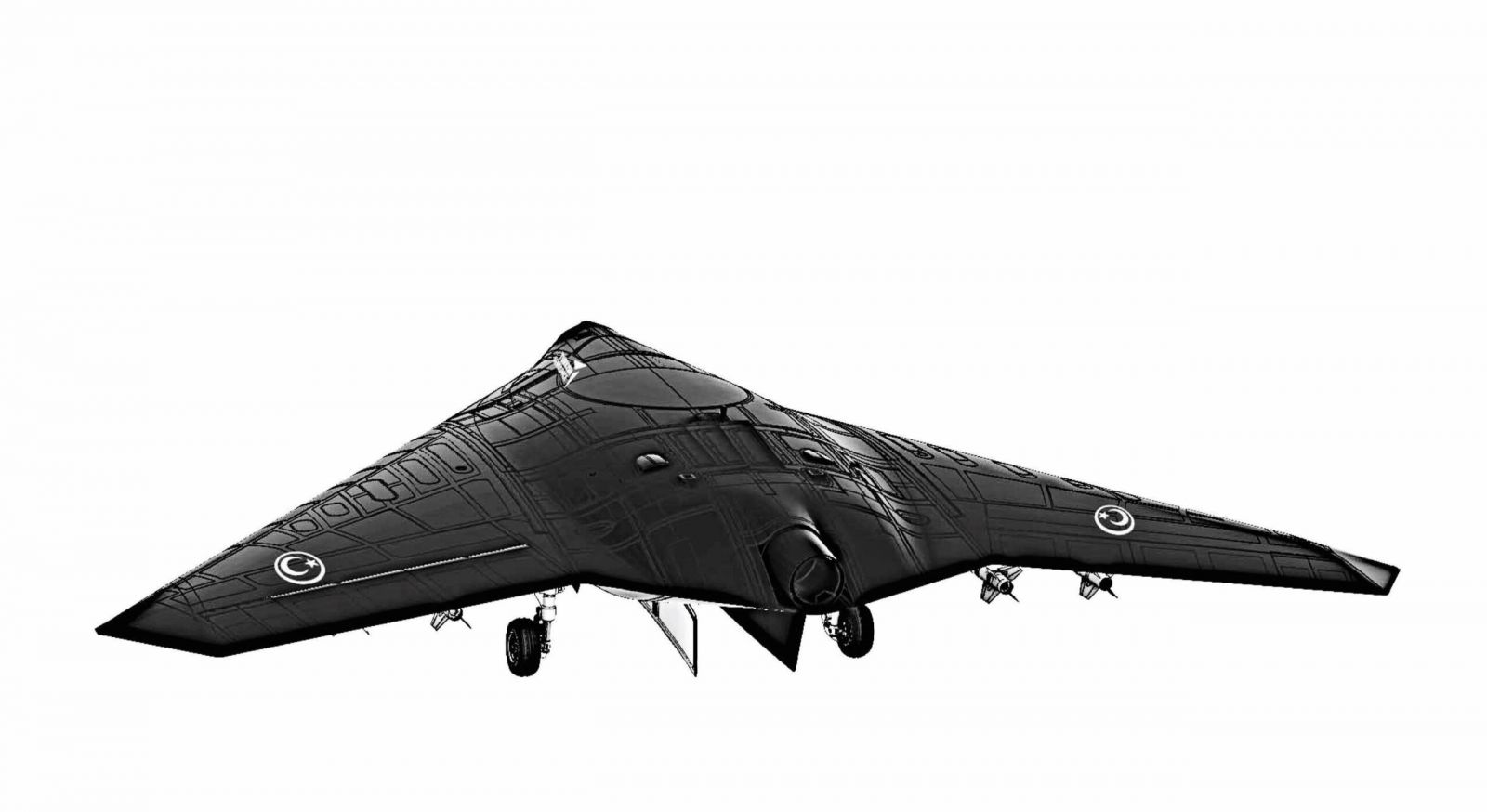 Q: Will there be a new development in the Supersonic Target Drone Project this year?
No, this year we are focused on ANKA-3.