Date: April 10, 2023 Update: April 10, 2023
Speaking at the delivery ceremony, President Recep Tayyip ERDOĞAN said TCG Anadolu, where the largest and heaviest helicopters and drones can land on and take off, is the world's first warship in its field. "We see this ship as a symbol that will reinforce our position as an assertive country in the world and a leader in our region in the Century of Türkiye. Today we are also cutting the steel of three new frigates of the MİLGEM İSTİF-Class that we will set sail for the Blue Homeland. I would like to thank everyone who contributed to the construction of TCG Anadolu and everyone who will take part in the construction of our frigates," President ERDOĞAN said.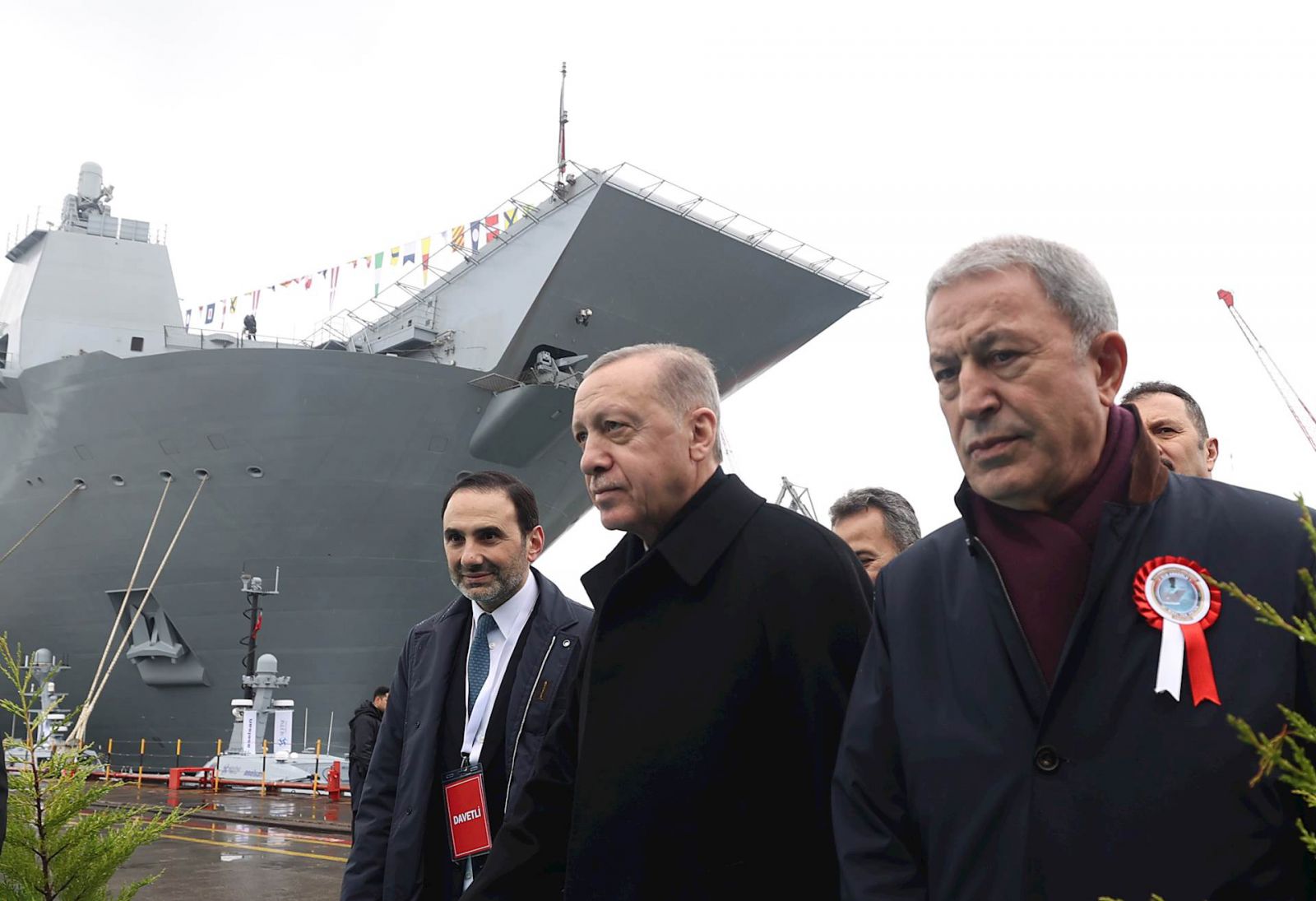 Noting that TCG Anadolu is the world's first warship in its field where the largest and heaviest helicopters and unmanned aerial vehicles can land and take off, President ERDOĞAN said: "TCG Anadolu is the first UCAV carrier in the world. Our Bayraktar TB-3 UCAV, Kızılelma unmanned fighter jet, and HÜRJET light attack aircraft will be able to take off and land on this ship. Also, thanks to the tanks and armored amphibious assault vehicles it carries, this ship has the features that will enable us to conduct military and humanitarian operations in every corner of the world when necessary."
Stating that 131 subcontractors took part in this project, which has a very high indigenization rate of approximately 70 percent, President ERDOĞAN said: "Thanks to TCG Anadolu, we will be able to easily deploy a battalion-sized force to crisis zones in the Aegean, Mediterranean and Black Sea without needing main base support."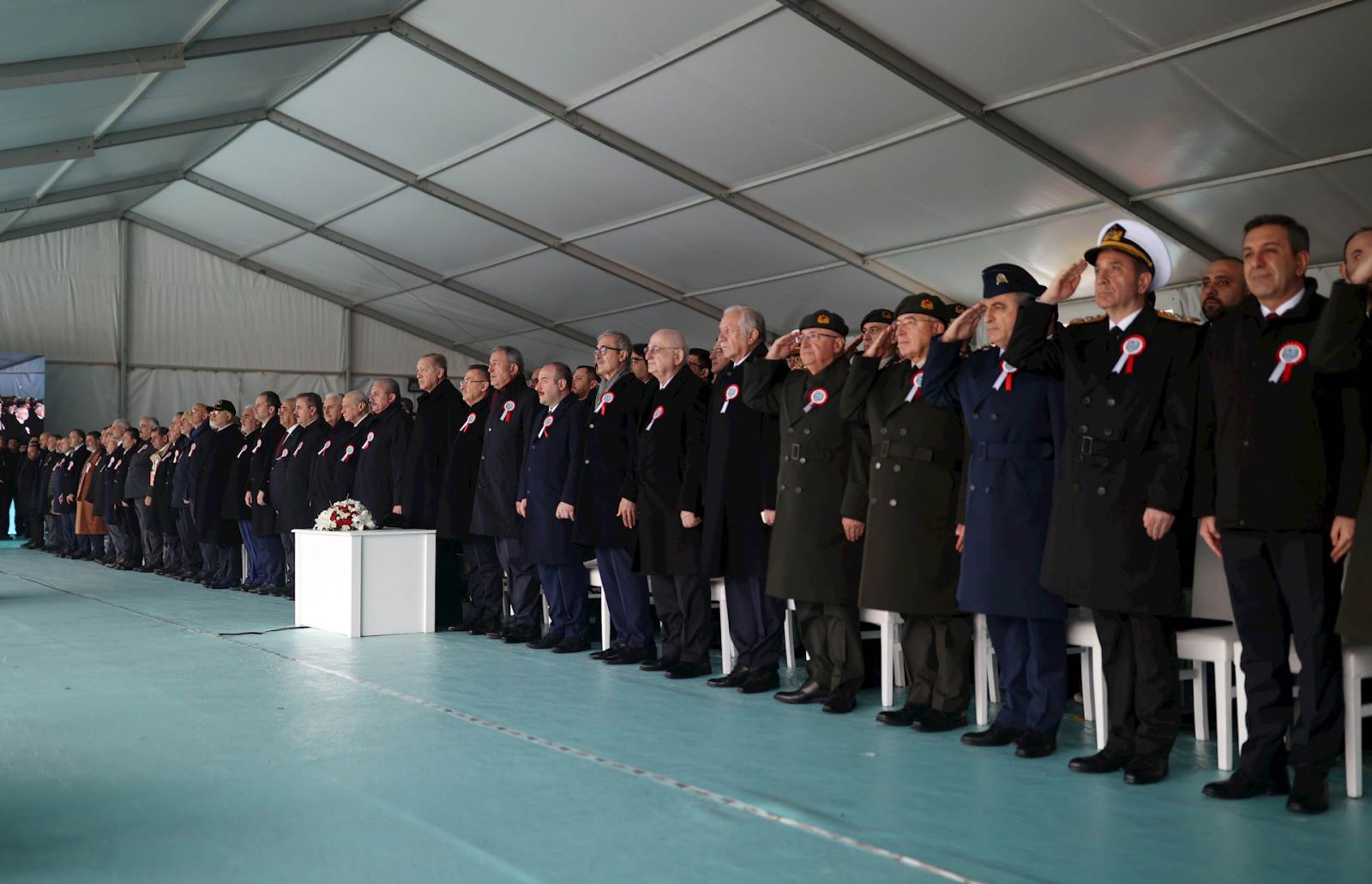 Commander of the Turkish Naval Forces, Admiral TATLIOĞLU, also shared information about TCG Anadolu during his speech. TCG Anadolu, which can deploy 12 manned or unmanned combat aircraft, 21 different types of helicopters, and UCAVS depending on the operation, will be able to transport 13 tanks, 27 amphibious assault vehicles, 6 armored personnel carriers, 33 various light and heavy vehicles, and 15 trailers in her deck.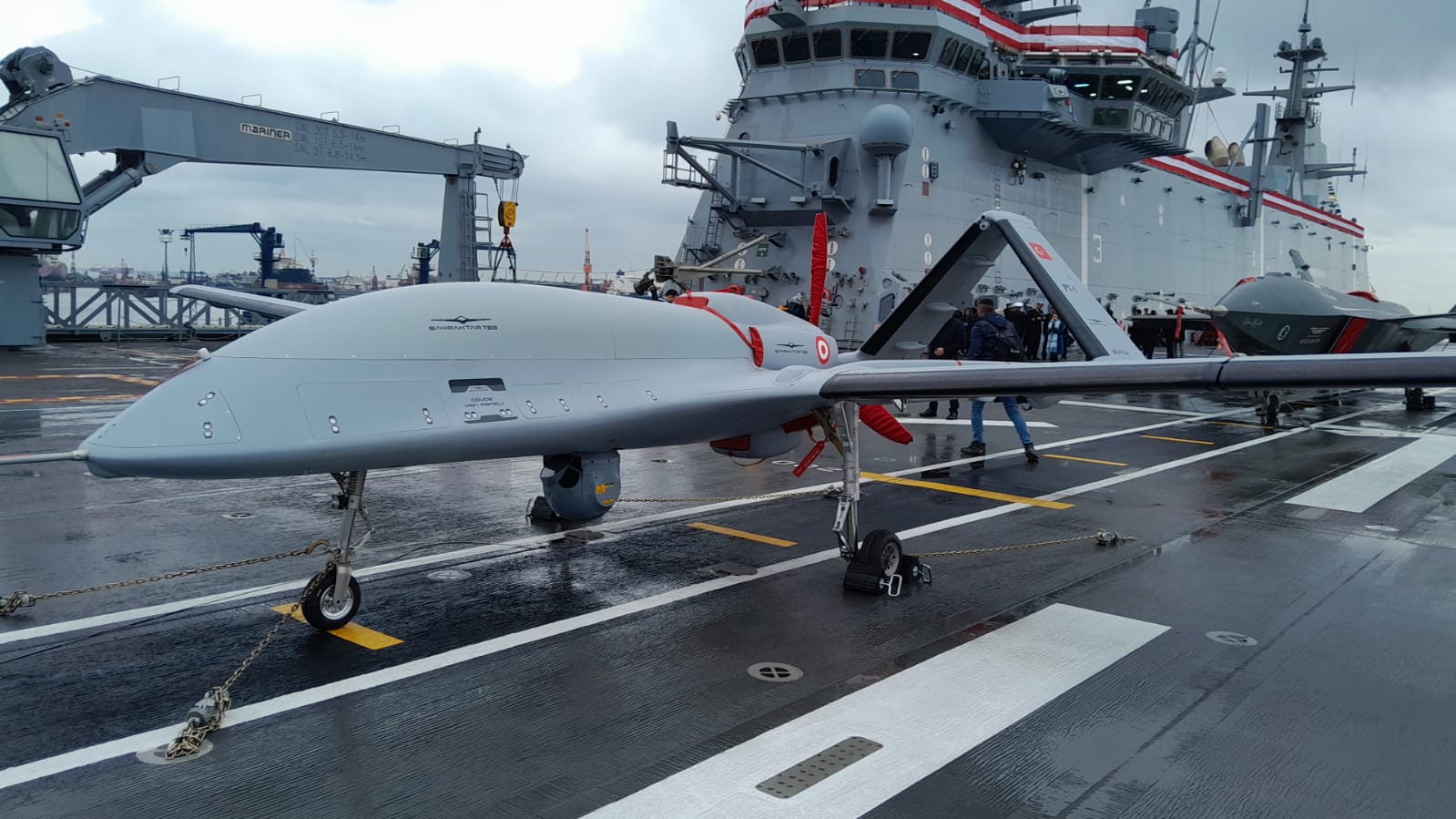 Built at İstanbul-based SEDEF Shipyard, TCG Anadolu can transfer at least a battalion-sized force to the designated location with its own logistics support without needing home base support. The Landing Helicopter Dock (LHD) contract was signed on June 1, 2015, between the Defence Industry Agency (SSB) and Sedef Shipbuilding Inc. (SEDEF) and became effective on September 18, 2015. The project includes the building of a Landing Helicopter Dock (LHD), along with 4 Landing Craft Mechanized (LCM), 2 Landing Craft Vehicle, Personnel (LCVP), 2 Rigid Hulled Inflatable Boats (RHIB), and 1 Commander Boat. The Steel Cutting Ceremony was conducted with the participation of the President of the Republic of Türkiye, Recep Tayyip ERDOĞAN, on April 30, 2016, and the keel laying of the first blocks took place on February 5, 2018, in line with the construction schedule. TCG Anadolu was launched from the dry dock on May 4, 2019, and the Main Engine and Propulsion System Integration was completed on January 31, 2020, followed by the beginning of Harbor Acceptance Tests on July 1, 2020. TCG Anadolu successfully received its Classification Certificate from Türk Loydu on December 2, 2022, which was followed by the signing of its Certificate of Provisional Acceptance on December 14, 2022.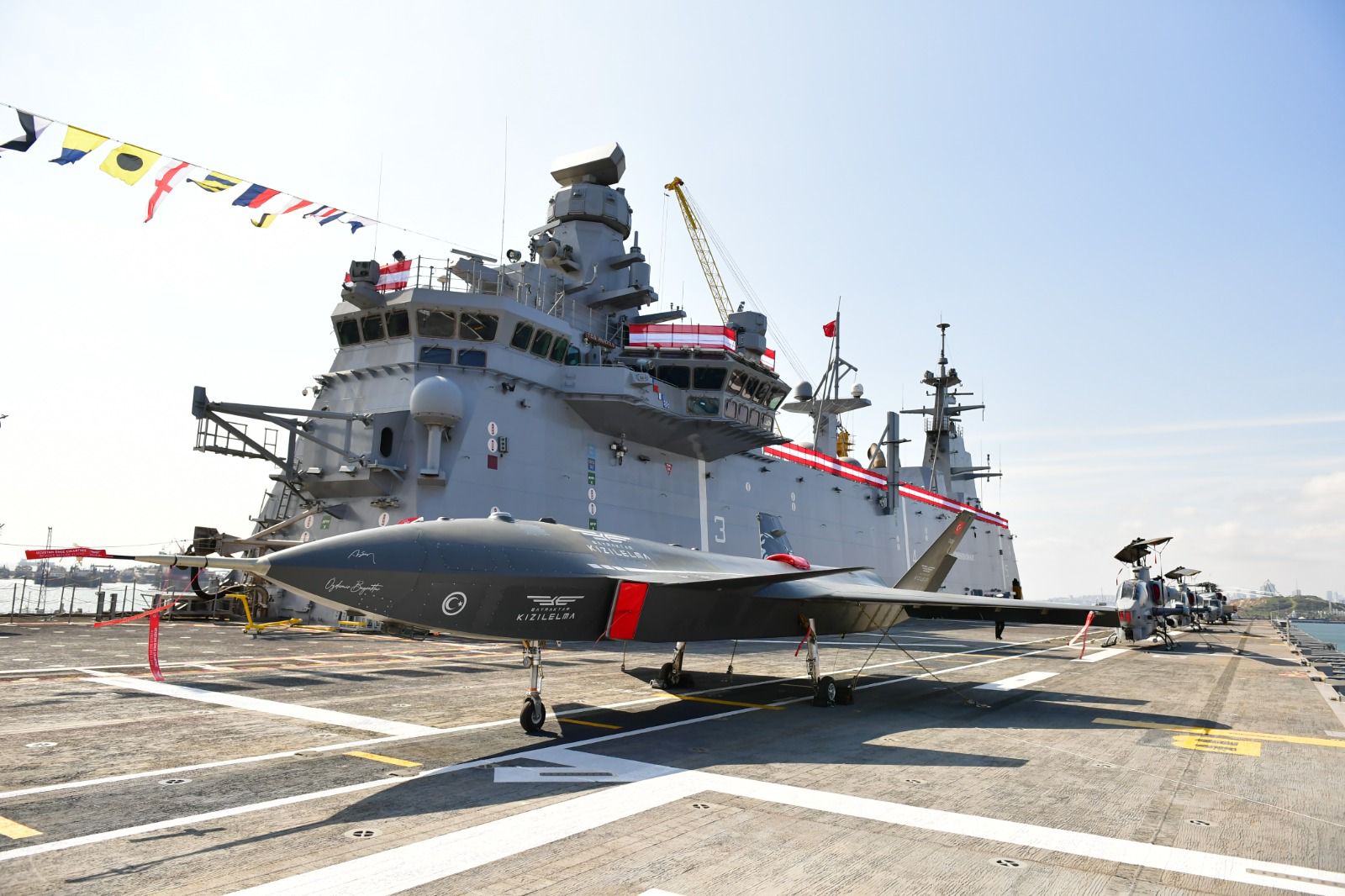 Landing Helicopter Dock (LHD) can be operated on all seas worldwide. TCG Anadolu is designed to carry one Amphibious battalion to the crisis areas with the necessary combat and landing crafts in its own dock, and she can participate in amphibious operations. NATO's heaviest transport helicopters and tiltrotor aircraft (such as the CH-53, CH-47, S-70B, AW149, and the V-22 Osprey) can be operated in day and night conditions from her flight deck.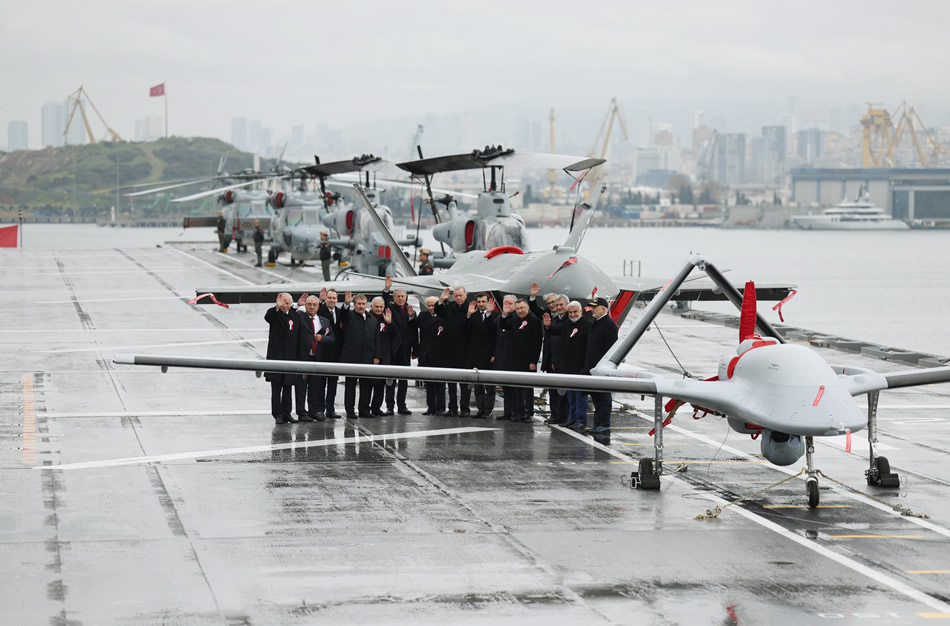 In addition, with its ability to deploy like F-35B short take-off and vertical landing (STOVL) aircraft, TCG Anadolu can revert the Republic of Türkiye's regional power transfer capability to a medium global power transfer. TCG Anadolu will become the first ever Unmanned Combat Aerial Vehicle Carrier in the world with Bayraktar TB-3 UCAVs taking off and landing on its runway, which is developed by BAYKAR and has enhanced use on aircraft carriers with its foldable wings. Further work is in progress to enable the take-off and landing of Bayraktar KIZILELMA Fighter UAVs (also developed by BAYKAR) and HÜRJET Light Attack Aircraft (developed by TUSAŞ) on TCG Anadolu. It is planned that between 30 and 50 UAV/UCAVs will be deployed on the ship, and at least 10 BAYRAKTAR TB-3 UCAVs will be able to operate simultaneously through the command-and-control system to be integrated with the GENESIS ADVENT CMS.
ADVENT Combat Management System will provide control of the ship's weapons and sensors, ship self-defense capability, task force command control, and amphibious operation support. Depending on the operational requirements, TCG Anadolu can host Land Forces, Air Force, and Amphibious Troops and accommodate NATO High Readiness Forces (Maritime) Headquarters.
GENERAL DESCRIPTION
Within the scope of this project, design support is taken from Spain's NAVANTIA S.A., while ASELSAN-HAVELSAN Joint Venture has indigenously developed the Combat Management System (CMS), Electronic Warfare (EW) System, 25 mm Stabilized Gun, Infrared Search and Tracking System (IRST), Electro-Optical Reconnaissance System, Laser Warning System, Torpedo Countermeasure System, Radars, Communication Systems, Navigation Systems, and Data Distribution Systems.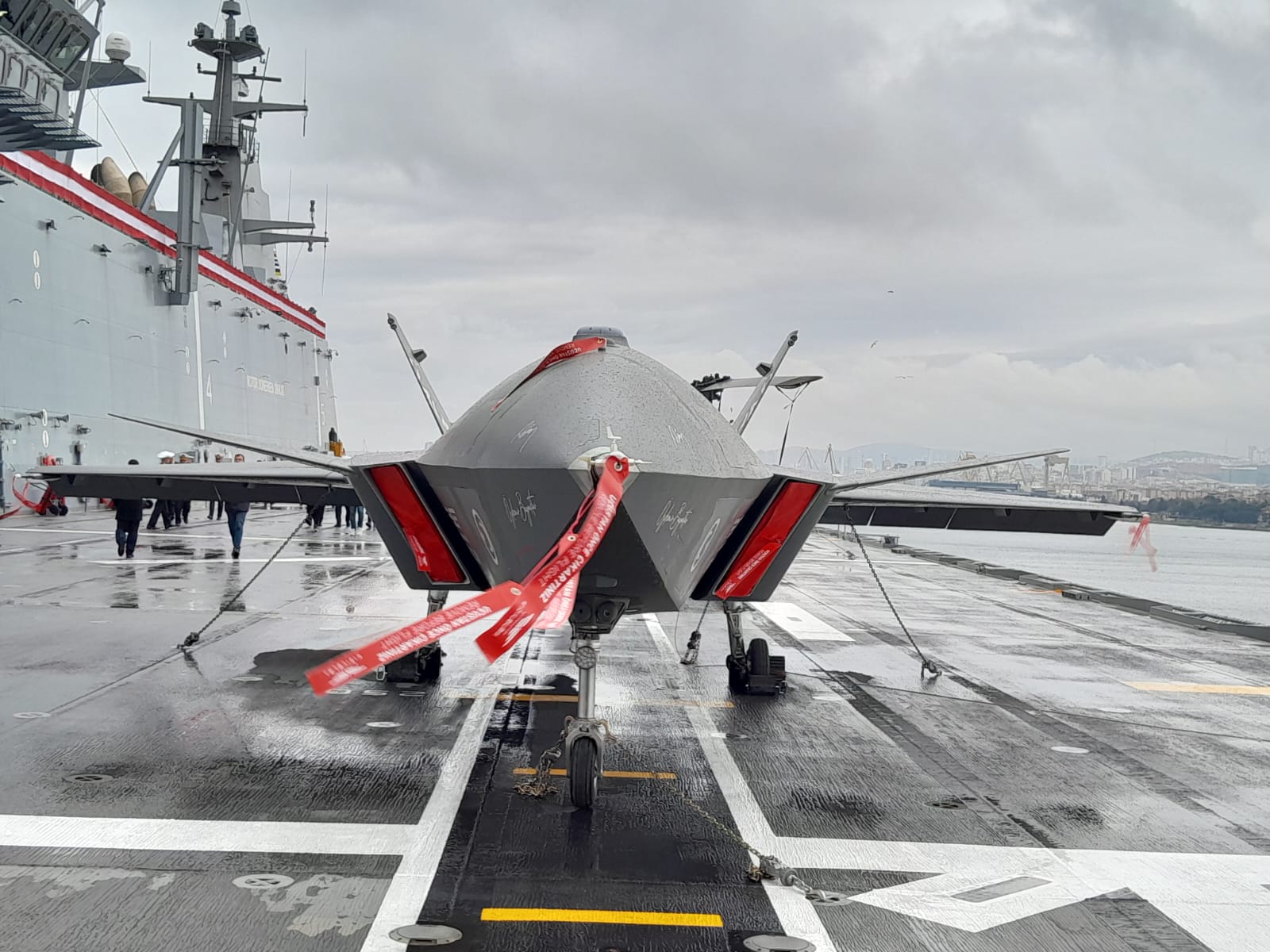 TCG Anadolu will be equipped with the GENESIS-ADVENT Combat Management System (CMS), SMART-S Mk2 3-D Search Radar, ARES-2N(V)2 Radar ESM System with new generation receivers, AREAS-2N Radar ECM System, two ALPER LPI Radars, two Navigation Radars, an Aircraft Detection and Control Radar, a Precision Approach Radar (PAR), two Electro-Optical Directors (EOD, Aselsan SeaEye-AHTAPOT System), Aselsan PIRI Infrared Search and Track/IRST System (PIRI KATS), KALKAN Chaff/Infrared (IR) Decoy Launchers, Torpedo Countermeasure System (TCMS) based on Aselsan's HIZIR, LN-270 INS/GPS (Gyro), MilSoft ÇAVLİS (Link-11/16 and 22, and JRE and VMF Tactical Data Link Systems), HF/V/UHF Radios, X/KU/UHF Band Satellite Communication Systems, Sounding System (a version of KULAÇ Sounding System developed for surface ships), IFF Mode-5 (Identification Friend or Foe), Laser Warning Receivers, Underwater Telephone, and ARAS-2023 Diver Detection Sonars. In its final configuration, the ship's armament consists of 5x Aselsan 25mm STOP Remote Controlled Stabilized Naval Gun Systems and 2x 20mm Mk-15 PHALANX Block 1B CIWS (fore and aft). TCG Anadolu also has a substructure (aft of the ship, next to the aircraft lift) for a 21-cell Mk49 Mod 3 RAM Guided Missile System Launcher or an indigenous system that will be developed by ASELSAN or ROKETSAN.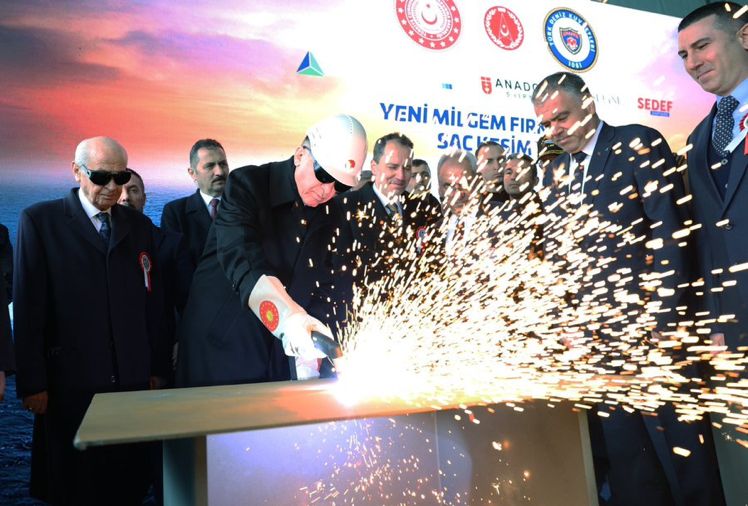 TCG Anadolu has an infirmary/hospital equipped with 32 beds, operating rooms, x-ray devices, a dental treatment unit, and intensive care and isolation/infection rooms, and will be able to serve as a Hospital Ship in humanitarian relief operations. She may also be used for Natural Disaster Relief duties when necessary. Thanks to its full-fledged hospital and operating room facilities, she can be operated for medical support in the context of natural disaster relief and humanitarian aid.
TC Anadolu has the largest displacement within the Turkish Navy's inventory.
· 714 building blocks,
· 12,000 tons of high-yield steel,
· More than 1,100 compartments and spaces,
· 11 decks and 9 elevators that allow for the transfer of aircraft, special purpose containers, patients, and personnel between the decks,
· Approximately 1,200,000 meters of cable, 50,000 spools of pipes,
· Approximately 50,000 connections with the Integrated Platform Control and Monitoring System for the 3 automation and control,
· Approximately 10,000 units of engines, equipment, devices, antenna, and sensor,
· Approximately 7,000 combat system equipment, devices, antennas, and sensors,
· Total equipment quantity is 70,000.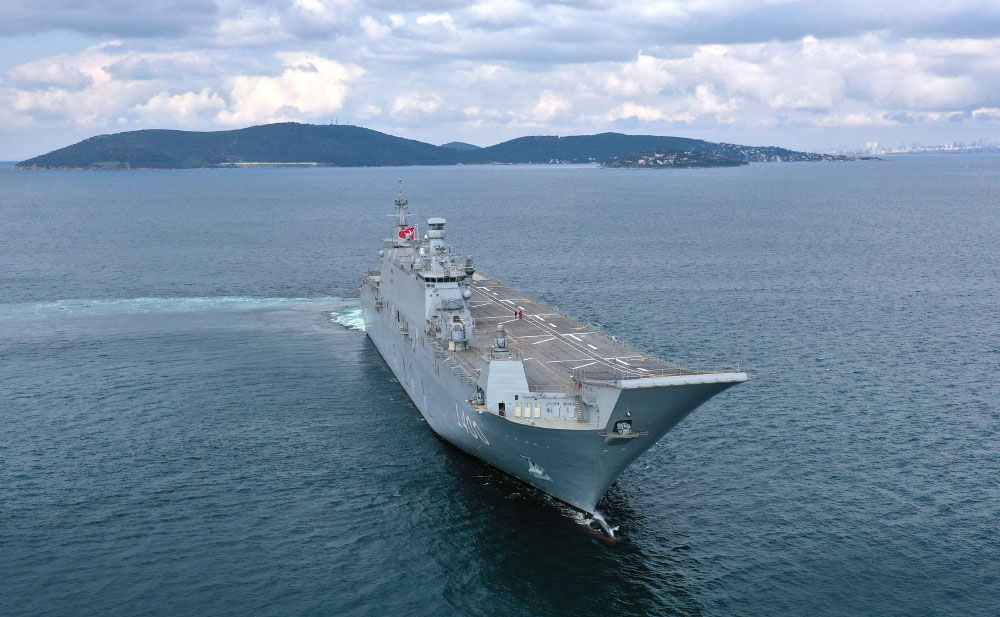 Landing Helicopter Dock (LHD) has 9,000 nautical miles (approximately 17,000 km) of cruising range. With a length of 231 meters (758 feet) and a width of 32 meters (105 feet), the total displacement equals around 27,000 tons. Except for refueling, she will be able to carry out operations for at least 50 days at sea and 90 days without home base support. TCG Anadolu LHD is designed to operate even in sea state 6, and even the design of the elevators has been updated and tested according to this requirement. TCG Anadolu will not feature a Central Steel Fender (two rows of parallel steel curtains) inside the dock at the request of the Turkish Naval Forces Command (TNFC). Classification and certification of the ship have been carried out by Türk Loydu from start to finish, while cooperation with TÜBITAK, universities, and advanced engineering companies was sustained throughout the project. A total of 131 subcontractors have contributed to the making of TCG Anadolu. Approximately 70% local content rate has been achieved in the project.